Is Dialysis the End of All PKD Patients
2016-02-29 07:45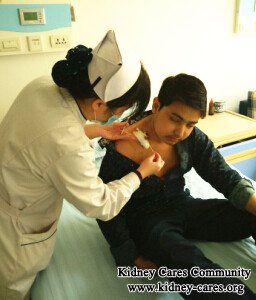 PKD is an inherited kidney disease. So far no treatment can change genes. That is to say, it will eventually develop to kidney failure and you have to undergo dialysis to maintain your life. Is dialysis the end of all PKD patients? Of course not.
Dialysis is not the end of all PKD patients
PKD is characterized by the fluid-filled cysts. With every passing day, those cysts will grow up to hamper your kidney function. If you could stop their growth and shrink them in the early stage, you can inhibit their progression to kidney failure. And then you can avoid dialysis.
Savior of PKD patients—Chinese medicine.
No treatment can change genes for you, but there is treatment for you to do the above things. After years of research and clinical practice, Shijiazhuang Kidney Disease Hospital has succeeded in developing a series of therapies to help PKD patients protect their kidney function, which includes Micro-Chinese Medicine Osmotherapy, Medicated Foot Bath, Mai Kang Mixture, Enema Therapy, Circle Therapy, Moxibustion, Steam Therapy, etc. Some of them can help you control the growth of cysts. Some can shrink them gradually. Some can set up a good blood environment for the damaged kidneys to heal themselves. Some can provide the damaged kidney tissues to speed up recovery.
Generally speaking, after 7-10 days' treatment, some associated symptoms will relieve, such as back pain, fatigue, cold limbs, etc. After 30-45 days' treatment, size of cysts will gradually become small and your kidney function will begin to improve. After several months' treatment, it is possible for you to achieve a better therapeutic effect.
Is dialysis the end of all PKD patients? No. If you do not want to end you life on dialysis, please take treatment as early as possible. Send a scanned copy of your medical test report to kidneycares@hotmail.com now. And then you can get some personalized guidance on PKD treatment from our nephrologists. You can also leave a message or talk with our online doctor directly.