Natural Ways to Slow Down Polycystic Kidney Disease
2015-05-20 11:48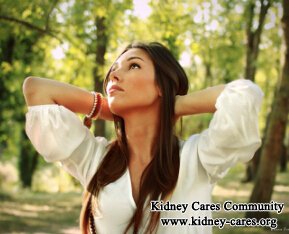 Polycystic Kidney Disease is short for PKD, which is a genetic kidney disease. So far, no treatment can change the genes, so it is incurable. But it does not mean we have no measures to stop it from developing to kidney failure. Here let's see some natural ways to slow down PKD. They can help you inhibit the growth of cysts so as to reduce their damage to your kidneys.
To drink plenty of water in the early stage
Not a few PKD patients have kidney stones, which may worsen your kidney disease. Drinking water will help flush it out. It can also prevent kidney stone from formation. Besides, it can also remove waste products from your body as well. Around 2 to 2.5 liters of fluid intake is recommended for people with PKD.
To supplement vitamin B3
A research done by Xiaogang Li, Ph.D showed that vitamin B3 helped naturally inhibited the activity of a protein called Sirt1 that influences the formation and growth of cysts.
To use Micro-Chinese Medicine Osmotherapy
In Shijiazhuang Kidney Disease Hospital, doctors develop a new treatment from hot compress therapy. It is Micro-Chinese Medicine Osmotherapy. This therapy is to put two herbal bags onto shen shu acupoints. Because the herbal bags are processed, active ingredients of herbs can be penetrated into the damaged kidneys with the hep of osmosis devices. They can block the abnormal proliferation of renal tubule epithelial cells and the secretion of lining cells to stop the growth of cysts. They can also speed up blood circulation and increase the permeability of capillaries so that cyst fluid can go out and be cleansed out of the body. As a result, the cysts become small.
In addition, you should follow a healthy diet, do some gentle exercise and keep positive attitude, which can strengthen your immune system so as to protect you from various diseases. If you would like to know more information about natural ways to slow down polycystic kidney disease, please leave a message below or send emails to kidneycares@hotmail.com.