Interventional Therapy for PKD
2015-04-06 08:54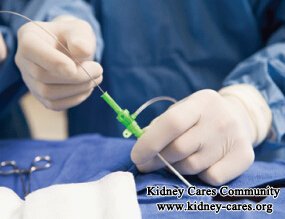 Nowadays conventional treatment for PKD is to do periodical exams to see how is the PKD evolution. There are no medicines to effectively combat the disease. After years of research, we find that interventional therapy is effective for you to improve medical condition.
Let's have a look at interventional therapy first.
Interventional therapy is to introduce instruments such as needles or catheters into the body through tiny incisions in the skin. The instruments are then guided by an imaging technique called fluoroscopy to the nidus. It has been widely applied into the treatment of cancer, tumor, liver disease, arterial aneurysm, etc.
Interventional therapy for PKD
Now Shijiazhuang Kidney Disease Hospital successfully applies interventional therapy in PKD treatment. As we all know, PKD is characterized by fluid-filled cysts. Those growing cysts can suppress the blood vessels around, leading to high blood pressure. High blood pressure can cause further damage to the kidneys. With the development of PKD, your blood pressure will increase higher and higher and it becomes more difficult to bring it under control. Interventional treatment can put intravascular stent into the blood vessels to lower blood pressure so as to prevent further kidney damage.
We have found that some Chinese medicine can inhibit the abnormal proliferation of renal tubule epithelial cells and block the secretion of lining cells to stop the growth of cysts. Some medicine can increase the permeability of cyst walls and speed up blood circulation so that cyst fluid can be taken away. As a result, cysts become small. Interventional therapy can infiltrate medicine into the damaged kidneys directly so that those medicines can take effect quickly.
Interventional therapy is a burgeoning therapy for PKD. If you want to have a try, please feel free to contact online doctor or leave a message below. We are very glad to provide more corresponding information.