How to Control Blood Pressure with Polycystic Kidneys
2016-08-22 08:41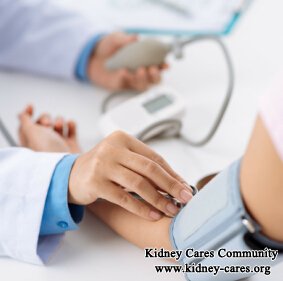 High blood pressure is a common symptom of polycystic kidney disease (PKD). With its progression, your blood pressure will be more and more difficult to control, while high blood pressure can cause further damage to your kidneys. This is a vicious circle. How to control blood pressure with polycystic kidneys? Go on reading to learn more information.
-Western medicine to lower blood pressure
In western medicine, there are many kinds of drugs, such as ACEI, ARBs, Calcium Channel Blockers, diuretics, etc. They can help lower your blood pressure.
-Surgery to shrink the cysts
It is the growing cysts that oppress the blood vessels, leading to high blood pressure. Hence to shrink the cysts helps you control blood pressure. Surgery can help remove the big cysts and reduce the oppression so as to lower blood pressure. But after removing the big ones, the small ones will grow up quickly. So it is not the fundamental way to solve blood pressure problems.
-Chinese medicine to improve kidney function
In Shijiazhuang Kidney Disease Hospital, Chinese medicine is widely used to treat PKD. In Chinese medicine, there are many therapies, such as medicated foot bath, medicated full bath, enema therapy, steam therapy, circle therapy, acupuncture, moxibustion, etc. They can dilate blood vessels to help lower blood pressure. They can also remove stasis to improve blood circulation and increase blood flow into damaged kidneys so as to improve ischemia and anoxia. Besides, they can inhibit the proliferation of renal tubular epithelial cells and secretion of lining cells to stop the growth of cysts. And they also increase pressure difference inside and outside of the cysts so that cyst fluid can be draw out. As a result, cysts become small gradually. With the shrinkage of kidney cysts, your blood pressure will stabilize and your kidney function will improve as well.
How to control blood pressure with polycystic kidneys? If you could not find a suitable treatment for PKD, please contact online doctor or leave a message below. You can also send a scanned copy of medical test report to kidneycares@hotmail.com. We can help you analyze it and then give you personalized guidance on treatment.