Water Consumption with PKD Stage 4
2015-03-02 08:52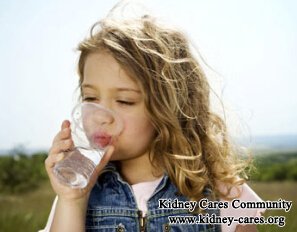 Many PKD patients concern about water consumption. Indeed we need water to maintain normal function of your body. In different stages of PKD, there is different water requirement. Now let's have a look at water consumption with PKD stage 4.
Now let's have a brief analysis on PKD stage 4.
As we all know, PKD is characterized by fluid-filled cysts. Those cysts keep growing with time going. In the early stage, there are no symptoms. But in stage 4, some cysts may be very big. Under certain pressure, those cysts may burst. After rupture, you may have to be hospitalized to prevent infections aggressively in case that they worsen your kidney function. In addition, your kidney function also declines with the growth of cysts.
Water consumption for patients with PKD stage 4
In stage 4, how much water you can drink depends on your medical condition. If you have severe edema, you should limit the intake of water, because water consumption may worsen your swelling. If you do not have edema and your urine output is normal, you can drink moderate water. In such case, water consumption can help you increase urine output so that waste products in your body can be taken away with urine, which helps you preserve kidney function.
Besides water consumption, you should pay attention to medical treatment to shrink cysts as early as possible. Micro-Chinese Medicine Osmotherapy is a characteristic treatment of Shijiazhuang Kidney Disease Hospital. It can inhibit the abnormal proliferation of renal tubule epithelial cells and the secretion of lining cells so as to stop the growth of cysts. It can also speed up blood circulation, increase the permeability of cyst walls, and promote the pressure between cyst wall so that cyst fluid can flow out into the blood and then be discharged out of the body with blood circulation. In such way, cysts become small.
PKD stage 4 should be attached importance, because without effective treatment, it develops to end stage renal failure quickly. If you would like to know more PKD and our treatment, please leave a message or send emails to kidneycares@hotmail.com.