Nephrotic Syndrome Girl from Russia In Kidney Disease Hospital
2019-02-21 13:36
Name: Elena
Gender: Female
Age: 24 Years old
Country: Russia
Diagnose: Nephrotic Syndrome, Membranous Nephropathy
Patient Word: It is wise choice to choose Kidney Disease Hospital for treatment.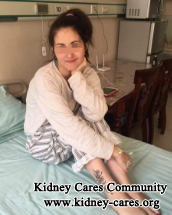 Elena from Russia came to our hospital on 26th 10,2016 for Nephrotic Syndrome (NS) treatment. The following is her treatment experience. Read on.
4 years ago, she began to suffer from lower limb swelling. Blood Pressure was 120/80mmHg, proteinuria was 3+, hematuria was +, 24h urinary protein quantity was 3.8g, creatinine level was 67umol/L and blood urea nitrogen was 3.5mmol/L. Her doctor only prescribed some medications to reduce proteinuria and hematuria. However, her proteinuria and swelling still came on and off. 2 years ago, she was recommended to take a kidey biopsy and then she was diagnosed with membranous nephropathy. 3 month ago, her report showed that there was extra fluid in her lung. It is very dangerous and makes her shortness of breath.
In order to get further treatment, she decided to come to our hospital for treatment.
When she came to our hospital, she first took a comprehensive test. The test showed her hemoglobin was 114g/L, creatinine level was 70umol/L and blood urea nitrogen was 7.7mmol/L. Besides, she also suffered from severe swelling. Based on her specific condition, our doctor gave her a specific treatment plan.
The treatment plan includes Micro-Chinese Medicine Osmotherapy, Medicated Bath, Hot Compress Therapy, Foot Bath and Steaming Therapy, etc.
Take Micro-Chinese Medicine Osmotherapy for an example:
It is an external application along with advanced osmosis machine and herbal medicines. It can extend blood vessels, promote blood circulation, relieve inflammation and coagulation in blood, which can supply nutrients, blood and oxygen to injured kidneys. A health internal environment can be provided for patients to restore injured kidney cells and recover part of kidney function.
After 10 days of treatment, her body weight was reduced to 53kg from 62kg. And her appetite was improved. She said to us "It is her wise choice to choose Kidney Disease Hospital for treatment".
If you want to know more treatment information about Nephrotic Syndrome, you can leave a message below or send an email to kidneycares@hotmail.com. We will try our best to help you.