Renal Failure Patient from Syria: Chinese Treatment Give Me New Life
2016-12-03 08:54
Name: Lana-Long
Gender: Female
Age: 36 years old
Country: Syria
Diagnose: Renal Failure
Patient Word: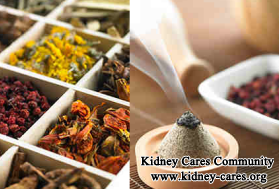 "Doctor, now my urine about has increased to 500 ml daily, I am so happy and excited." Lana-Long called her doctor in Shijiazhuang Kidney Disease Hospital from Syria. Today is the fourth day she got discharged from our hospital, and she brought a good news to us. Let's see this 36 years renal failure patient's story in following article.
18 years ago, lana-lang had already diagnosed with renal failure, and she took kidney transplant at that time. Until this year, her transplanted kidney has been failed again. So she had to take dialysis again when she was checked with high creatinine level. At the beginning, she thought dialysis was also a good way, but when she got some severe complications due to dialysis, she felt very worried, and she wanted to get some other ways to avoid dialysis.
When she learned that Chinese medicine treatment is a good way, and many foreign patients choose this treatment to come to China. She thought she need to catch the last chance, so she finally decided to come to China for Chinese treatment.
When lana-long just came to our hospital, the experts analyzed her condition, and we found that she was very weakness and suffered from lots of complications due to dialysis. At that time, her blood pressure was as low as 70/50 mmHg, serum creatinine level was as high as 1096 umol/L with no urine output.
After analyzing her condition, the expert team made a systematic treatment plan for her, which is the Toxin-Removing Treatment, including Moxibustion Therapy, Foot Bath, Full Bath, and so on. She began to take regular treatment everyday. After taking Moxibustion therapy for 5 times, she began to get sweating, and she had urine now, the 24 hours urine was about 60 ml. After taking moxibustion treatment for 9 times, she got obvious increased sweating, and creatinine level reduced to 772 umol/L, 24 hour urine output increased to 150 ml. 17 times later, creatinine level reduced to 411 umol/L, and 24 hours urine output reduced 350 ml. And her blood pressure was also increased to normal level 130/80 mmHg.
Lana-Lang was so glad to see her improvements, and she said "Chinese treatment is really very amazing, and I am very satisfied with my curative effects. The doctors and nurses take good care of me in this hospital, I am really very grateful. I would take continue treatment after treatment, I believe my condition can be better and better."
Yes, Lana-long's condition becomes better and better with continue treatment after she came back home. Chinese medicine treatment is really a good chance for renal failure patients to get a new life. If you want to learn more, you can send e-mail to kidneycares@hotmail.com, or you can also contact with whatsapp +8615131171391. We will give more help.