Through 1 month's Treatment in China, He Finally Stops Dialysis
2016-07-21 00:43
Name: Mr. Jiang
Gender: Male
Age: 47 Years Old
Country: China
Diagnose: End Stage Renal Disease
Patient Word: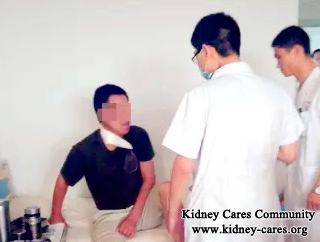 Through 1 month's treatment in Shijiazhuang Kidney Disease Hospital, Mr. Jiang finally stops dialysis, and he can get discharged from our hospital and live a normal life. Let's see his story of fighting with kidney failure.
About 2 month's ago, Mr. Jiang felt very tired day by day, and his condition cant be relieved after taking a good rest. So he decided to come to hospital for checkup. The blood test reports showed his serum creatinine level was as high as 1129 umol/L, and he was already in end stage renal disease (ESRD). The doctor told him the best way for him was taking dialysis, other kinds of treatment will not work for him.
Mr. Jiang searched on the internet, and he found that dialysis cant restore kidney function, and he needs to take dialysis all his life long. So he doesn't want to take it, and he tried to get the alternative treatment to avoid dialysis.
When he heard that Shijiazhuang Kidney Disease Hospital use the Chinese therapies combined with certain western medicines, which can help improve kidney function and avoid dialysis. So he decided to come to our hospital for further treatment.
On 4th, June, 2016, Mr. Jiang came to our hospital, and his serum creatinine level was as high as 823 umol/L. For his condition, there are still residual kidney function left. If the healthy kidney cells and damaged kidney cells can be improved, his kidney function can be improved, then he can avoid dialysis.
Depending on his own condition, our expert team made a systematic treatment, which aim at purifying his blood first and then improve the kidney function.
The treatment includes Blood Pollution Therapy and Four-One Treatment (Micro-Chinese Medicine Osmotherapy, Foot Bath Therapy, Oral Chinese Medicine Therapy, Maikang Mixture). After half of one moth's treatment, his anemia got great improved, and he felt more energetic, and some of his severe symptoms have been controlled well. His serum creatinine level reduced to 500 umol/L. Taking continue treatment with the Four-One Treatment, it can help remove more toxins and wastes out from blood.
After one month's treatment, his urine output kept in 2000 ml a day, and he stopped the Blood Purification with stable creatinine level 500. He stopped dialysis, and he can come home to take continue treatment with the Chinese medicine treatment to live a better and normal life.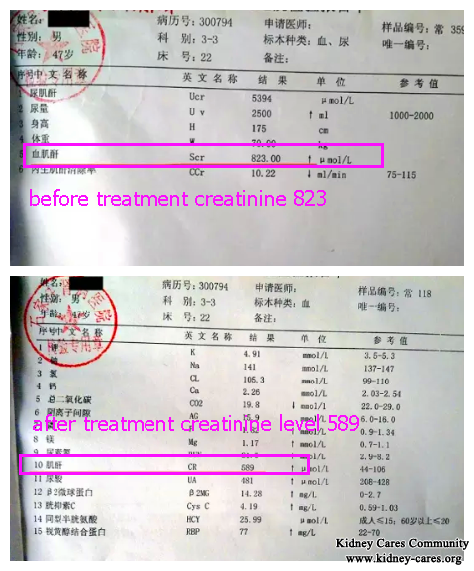 Mr. Jiang is very happy to get the result, and he said I made a right choice to come to SHIJIAZHUANG KIDNEY DISEASE HOSPTIAL for treatment. We believe his condition can be better with continue treatment. If you want to learn more patient stories in our hospital, you can leave a message below, or you can also send e-mail to kidneycares@hotmail.com, we can give more help.