Great Curative Effects: His Swelling is Controlled Well After Taking Chinese Treatment
2016-05-06 09:22
Name: Mr. He
Gender: Male
Age: 30 years old
Country: Ningxia Province, China
Diagnose: Primary Nephrotic Syndrome
Patient Word: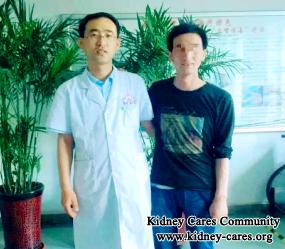 Mr. He is 30 years now, and he is from Ningxia province in China. Last year, on April, his got severe swelling all over the body due to a cold, he didn't pay any attention, and just thought that he maybe too tired. However, his swelling got more and more severe, so he come to local hospital, and was diagnosed with primary nephrotic syndrome.
The doctor asked him to be hospitalized, however, the result was, after a period of treatment in local hospital, his condition got worse. He even cant walk by himself due to the severe edema all over the body, and he lost his urine output as well. So he got discharged from the hospital, and he bought some diuretics to home. After taking the medicines for a period, he got some urine again. Since the diuretics cant remedy the nephrotic syndrome from root, so Mr. He decided to come to Shijiazhuang Kidney Disease Hospital, when he heard that the hospital can remedy the nephrotic syndrome well with good curative effects.
On 18th, April,2016, Mr. He came to our hospital, and the urine test showed 24 hours' protein in urine was as high as 8.83 g. Then our expert team helped make a systematic treatment plan based on his own condition, it is a treatment schedule based on the traditional Chinese medicine (TCM), and the feature treatment includes Micro-Chinese Medicine Osmotherapy, Foot Bath Therapy, Oral Chinese Medicine Therapy, Maikang Mixture, Full Bath Therapy, and so on.
These therapies aim at removing toxins and wastes out from blood and make a good blood environment, then the effective substances in these therapies can work well in blood and kidneys, which can remedy the nephrotic syndrome with improved kidney function.
After about half a month's treatment, we can see the great curative effects on Mr. He.
1. Here was his urine after treatment, we can see the urine was very cloudy, and there were cotton-like substances in it. These were the wastes and immune complexes discharged from body.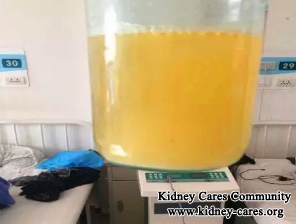 2. His body weight was reduced from 73 kg to 55kg, it mean there are lots of fluid discharged from his body, and his severe swelling has been controlled well. And his urine volume also increased a lot after the treatment.


3. The leakage out of protein in urine was also controlled well, we can see his 24 hours' protein in urine reduced to 0.89 g/24h.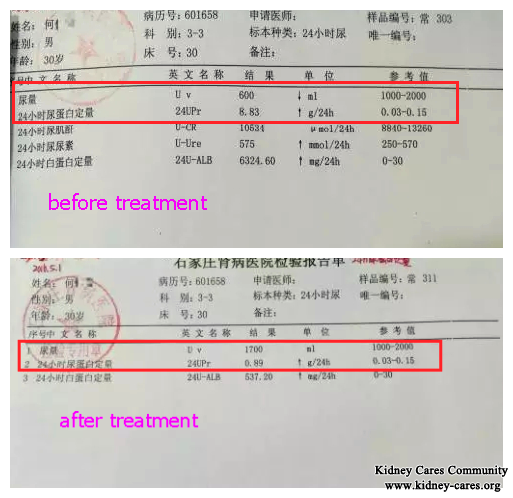 Mr. He is very glad to see his great improvements after taking the systematic Chinese medicine treatment in our Shijiazhuang Kidney Disease Hospital. He said he really did a good choice, and he should come here as early as possible. If you want to learn more details of the treatment in our hospital for the nephrotic syndrome, you can leave a message below, or you can also send e-mail to kidneycares@hotmail.com, we can give more help.