IgA Nephropathy: Serum Creatinine Level Reduced From 697 to 173 With Chinese Treatment
2016-05-05 20:09
Name: Chen Yang
Gender: male
Age: 39 years old
Country: Hunan Province, China
Diagnose: IgA Nephropathy
Patient Word:
Since 1993, Chen Yang got severe swelling all over the body, and the urine test showed that proteinuria 3+. Hematuria -, then he was diagnosed with acute nephritis by local hospital in Hunan. The doctor prescribed steroids to control, and the swelling was disappeared after one week's treatment, but got relapsed quickly. In the later years, he got swelling all over the body from time to time. During the treatment in his local hospital, he took kidney biopsy, and it showed IgA nephropathy. Although taking steroids treatment to control the disease, and his condition got relapsed easily and frequently. In order to get the systematic treatment, he chose to come to Shijiazhuang Kidney Disease Hospital for further treatment.


IgA Nephropathy is a kind of disease with the damages of glomerular mesangial cells, and it can developed into kidney failure with severe kidney damage. Just taking steroids for treatment is not enough, because it cant control well of his symptoms and his proteinuria was still as high as 3+ with the treatment. And this can also cause further damage to kidneys.
When he came to our hospital, the doctor made systematic treatment for his condition, and the reports showed that proteinuria 4+, 24 hours' amount of proteinuria was 6.61 g, and his serum creatinine level was also as high as 697 umol/L.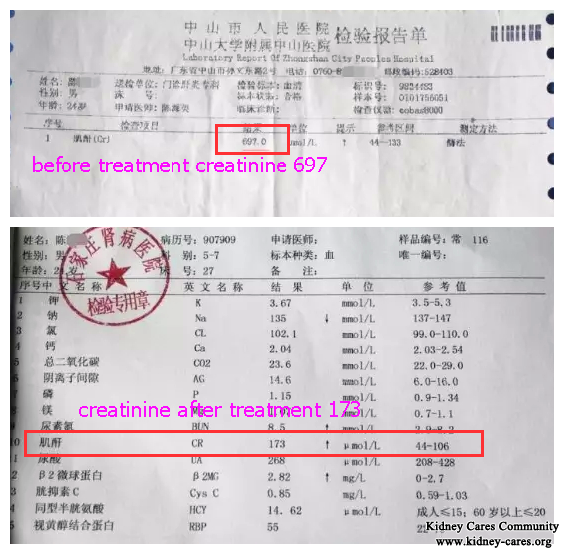 Depending on his case, our expert team made a systematic treatment, it included some Chinese therapies such as Micro-Chinese Medicine Osmotherapy, Foot Bath Therapy, etc, combined with some certain western treatments. These therapies aim at controlling his severe symptoms and restoring his kidney function.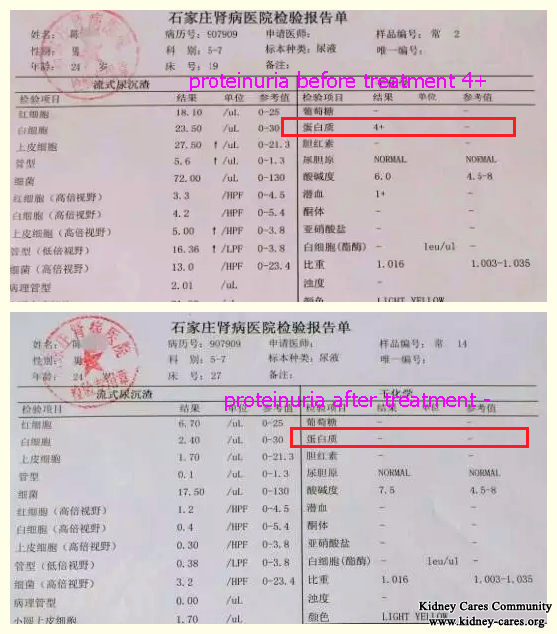 After about 2 weeks' treatment, his condition got great improvements, the proteinuria became negative, and the 24 hours' amount of protein in urine turned into normal range. More important, his serum creatinine level reduced to 173 umol/L. And the curative effects can make his condition kept stable and he can live a better life after treatment.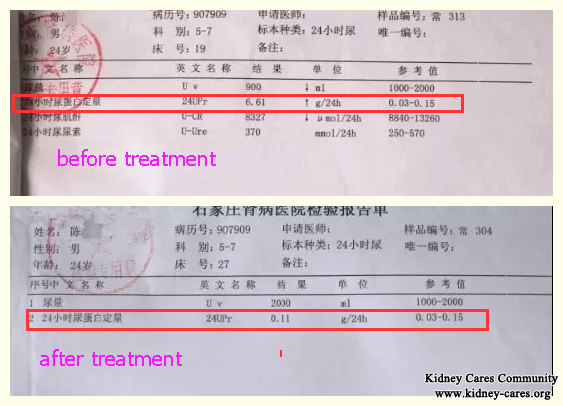 If you want to learn more details of the treatment for IgA Nephropathy in SHIJIAZHUANG KIDNEY DISEASE HOSPITAL, you can leave a message below. Or you can also send e-mail to kidneycares@hotmail.com, we can give more help.