My Right Decision-Come To China For My Kidney Failure
2016-01-17 07:24
Name: ASIRI
Gender: Male
Age: 28 years old
Country: Saudi Arabia
Diagnose: Kidney Failure
Patient Word:
I am ASIRI from Saudi Arabia. I am only 28 years old but I have suffered from kidney failure for 8 years. I should have a harmonious family and a successful career at my age. However, due to kidney failure, I cannot do that. I can not do what I like to do. I cannot eat what I like to eat. But I still do not want to give up. There is a voice in my deep heart "I can get better and enjoy my meaningful life."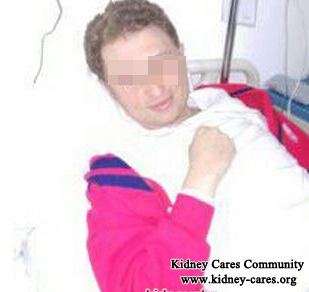 I will try any method for my kidney failure. On occasion, I found a hospital located in China called Shijiazhuang Kidney Disease Hospital. The main therapy in their hospital is Chinese Medicine Treatment. Many therapies are new to me. I have never heard of them before. But I am really attracted their new therapies. I want to have a try. So on November 2, 2015, I came to China and arrived at Shijiazhuang Kidney Disease Hospital.
First, their doctors arrange a systematic physical examination for me. Both of my kidneys begin to shrink and meanwhile I suffer from gout, high blood pressure and metabolic imbalances. My creatinine level is 446umol/L , urea nitrogen level is 25.4mmol/L, uric acid level is 695umol/L.
I got my special and systematic treatment plan the second day. Their experts had a two hours of discussion and then gave me a Four Plus Seven Treatment and Chinese Medicine Enema Therapy. Four Plus Seven Treatment includes a series of small Chinese medical therapies. "Four" refers to a bottle of Mai Kang Mixture, an oral Chinese medicine, a dose of external application and a basin of foot bath. "Seven" refers to seven external applications including steaming therapy, circle therapy, Hot Compress Therapy, foot bath, medicated bath, enema therapy and moxibustion therapy. These therapy can dilate blood vessels, improve blood circulation, enhance the immune system, relieve renal ischemia and anoxia state, thus improving kidney function. Chinese medicine enema therapy is to send Chinese medicines to my intestines. This therapy can help me discharge some toxins and wastes out of my body.
| | | | | | |
| --- | --- | --- | --- | --- | --- |
| | Blood Pressure | Electrolyte | Creatinine(umol/L) | Urea Nitrogen | Uric Acid |
| Before the Treatment | 150/100 | 15.4 | 446 | 25.4 | 695 |
| After the Treatment | 110/80 | 21.3 | 300 | 13.4 | 204 |

I am really shocked by the effects of Chinese medicine treatments. Edema, nausea, vomiting and poor appetite all disappear.My condition is improved greatly and I can live a high quality life. My decision to come to China for treatment is right. I am very happy. Thanks for this hospital, doctors and nurses here. I love you all.