Dream Comes True: An African Patient With Kidney Failure Avoid Second Kidney Transplant Successfully
2016-01-17 07:28
Name: Zakaria
Gender: Male
Age: 16 years old
Country: Africa
Diagnose: Kidney Failure
Patient Word: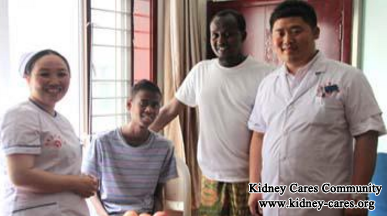 Zakaria is from Africa and 16 years old. He has whole body swelling for two years . No exact diagnosis was given by his doctor and there was also no effective treatment. Two years later, his condition deteriorated and his father transplanted a kidney to him. However, his condition got worse after one year.
His serum creatinine elevates to 325umol/L and he is hospitalized again. But his condition does not be controlled well. His creatinine level elevates to 450umol/L. He is told by his doctor to take the second kidney transplant. What a bad news for him!
He does not believe kidney transplant is the best treatment for kidney failure so he rejects transplant at this time. His parents and relatives begin to seek better treatment for him. On occasion, his cousin found our hospital-Shijiazhuang Kidney Disease Hospital and got contact with our doctors. Soon, with the cooperation of both sides, Zakaria comes to our hospital for treatment accompanied by his parents.
When he was admitted to the hospital, he cannot walk and sits in a wheelchair. Urine volume is only 300ml. There is a large mass in his stomach, which is from accumulation of toxins and constipation. Besides, Zakaria also has severe pleural effusion and pericardial effusion. He is diagnosed with kidney failure after kidney transplant.
After only 7 days of Micro-Chinese Medicine Osmotherapy, swelling disappears and effusion also disappears. His urine volume is increased to 1800ml. After one month of treatment, he feels very comfortable due to the disappearance of other symptoms like nausea, vomiting, tiredness and itchy skin, etc. He can walk by himself. More importantly, he has no need to take kidney transplant with the improvement of his kidney function.
Kidney transplant is not the only therapy for kidney failure. Micro-Chinese Medicine Osmotherapy, Medicated Bath, Mai Kang Mixture, Medicinal Soup and Moxibustion Therapy etc in our hospital can help you avoid kidney transplant successfully. If you want to get the detailed information of our natural Chinese medicine treatments, you can leave a message below or send an email to kidneycares@hotmail.com.