Best Treatment Option For an India Patient In Kidney Disease Hospital
2019-04-02 11:23
Name: Sanjay
Gender: Male
Age: 51 years old
Country: India
Diagnose: Chronic Kidney Disease (CKD), High Creatinine
Patient Word: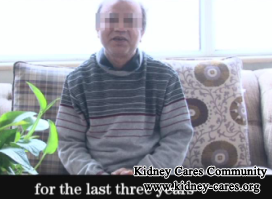 A patient, Sanjay, from India suffers from kidney problem. For the past three years, he was taking treatment in India-the western treatment. But the curative effect is not good. His condition did not be improved. Under such a condition, he had to seek for alternative treatment for kidney problem.
Through the website, he came to know about our hospital- Kidney Disease Hospital and decided to come and have the treatment-Chinese systematic treatment in China for the three weeks.
This is a herbal treatment which we have the herbal medicine, steaming therapy and acupuncture, so this is a combination of various treatments in the Chinese systematic treatment for the kidney problems.
He has high creatinine level. After 10 days of treatment and medicines, his creatinine level has reduced from 647umol/L to 602umol/L. We always know the function of kidney is to remove the toxins through the urine. As we know, we will observe the urine through the color and through the smell. After taking the medicines in Kidney Disease Hospital, there was changes in the color of his urine. Lots of toxins were there and earlier it was very clear urine and after these Chinese medicines, lots of bad smell comes out. So there are changes in the color and urine. With times going on with the treatment, the smell is strong and the color is deeply. He thinks that if he continues the treatment, he will be better and better so he has the confidence for his recovery.
The doctors are very cooperative here and they take the personal care about the treatments for the patients nurses are also very cooperative and take care of the personal cares for patients. And everyone is very cooperative. He feels very homely and thinks that we can trust and take the treatment because this can deeply help us for long term solutions to our kidney.