More Than 10 Years Of Purpura Nephritis Gets Treated By Chinese Medicine Treatment
2016-01-17 07:29
Name: Chen Jingya
Gender: Female
Age: 25 Years old
Country: Canada
Diagnose: Purpura Nephritis
Patient Word:
Chen Jing Ya has suffered from Purpura Nephritis for more than ten years old. Purpura Nephritis is accompanied by joint pain, abdominal pain, decreased urine output, swelling eyelids and urine protein 3+++. She is given steroid treatment. Some symptoms can get alleviated but they are easy to relapse. Her parents has took her to many hospitals for treatment but the curative effect is not satisfying.
She hears of Shijiazhuang Kidney Disease Hospital from someone. This hospital is specialized in kidney disease so she decides to come to this hospital for a try.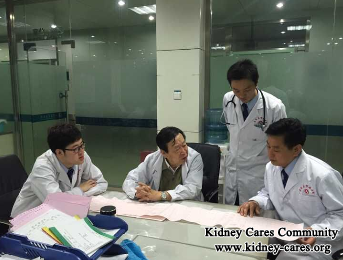 Before the Chinese medicine treatment
Swelling of the whole body
Chills
Looking bleak
Fatigue and weakness
Abdominal distension and less urine
Urine protein ++++
White blood cells: 0-4
Granular casts: 0-1
During the treatment
Unique Chinese Medicine Treatments in this hospital are more popular and effective in treating kidney disease. Different Chinese Medicine treatment treats different type of kidney disease. As for the treatment of purpura nephritis, the most effective therapy is Immunotherapy. This therapy is a combination of western medicines and Chinese medicines like Chinese herbs, Mai Kang Mixture, Micro-Chinese Medicine Osmotherapy and Medicated Foot Bath. Western medicines can first be used to control relative symptoms. When symptoms are under control, Chinese medicines can play their roles better. Chinese medicines help prevent inflammation and coagulation, improve blood circulation, remove blood stasis, expand blood vessels and provide nutrients for damaged kidneys. After a period of treatment, kidney damage can be repaired and then kidney function can be improved as well. Moreover, you do not need to worry about the side effects as the medicines all come from nature.
After the treatment
After about 15 days of treatment, symptoms such as chills, fatigue, weakness and swelling disappear. Urine protein becomes negative. Besides, relapse does not occur. More than 10 years of Purpura Nephritis is treated by Chinese medicine treatments. If you want to learn detailed information about Immunotherapy, you can leave a message below or send an email to kidneycares@hotmail.com. We will reply you as soon as possible.