Urine Protein 2+, Serum Creatinine 1004umol/L, Swelling In Uremia: What To Do
2016-04-06 03:58
Name: Wang Fei
Gender: Male
Age: 32 years old
Country: China
Diagnose: Uremia
Patient Word: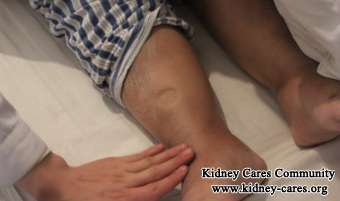 At the beginning, this patient only has urine protein 2+. But after 4 years, his serum creatinine levels elevates to 1004umol/L, and he also suffers from chest tightness, shortness of breath and edema. His disease has progressed to uremia.

In order to rescue him from danger, he comes to our hospital-Shijiazhuang Kidney Disease Hospital under the accompany of his family members.
Dialysis is one treatment but it is not the only treatment. In our hospital, we use systematic Chinese medicine treatment to treat uremia. This systematic Chinese medicine treatment includes Medicated Foot Bath, Micro-Chinese Medicine Osmotherapy, Mai Kang Mixture and Medicinal Soup. Chinese medicine treatments can dilate blood vessels, improve blood circulation, inhibit inflammation and coagulation, degrade extracellular matrix, repair injured kidney intrinsic cells and relieve renal ischemia and anoxia state. In this way, kidney function can be improved greatly.
After two weeks of treatment, swelling has been relieved obviously. Body weight has reduced 18 kilograms. With the disappearance of edema and improvement of congestive heart failure, he can lie on his back. Then, his spirit and appetite are both improved.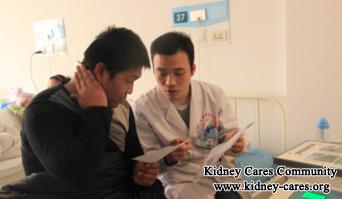 More importantly, three times of dialysis is reduced to 2 times a week. It is possible for him to get rid of dialysis completely.
Our Chinese medicine treatments have brought hope to many kidney disease patients. If you happen to be a kidney patient and find no effective treatment in your local country, Shijiazhuang Kidney Disease Hospital is your best hospital. Any question, you can leave a message below or consult our online doctor directly.