Nephrotic Syndrome, Severe Edema: Four One Chinese Medicine Treatment
2016-04-06 03:32
Name: Liu Yang
Gender: Male
Age: 13 years old
Country: China
Diagnose: Nephrotic Syndrome
Patient Word:
Liu Yang is a 13-year-old Nephrotic Syndrome patient from Guang Xi Province, China. 8 month ago, swelling appears on his face and eyelids. Gradually the swelling spreads to his limbs. After steroids are used, edema is relieved. But the edema always comes and goes. Two months ago, swelling becomes worse. He is hospitalized in local hospital for 50 days, but swelling does not disappear. To seek further treatment, he comes to our hospital-Shijiazhuang Kidney Disease Hospital for treatment.
Swelling is one measurement for diagnosing Nephrotic Syndrome. Mild swelling has no effect on your daily life while severe edema may threaten your life.
When Liu Yang comes to our hospital, his swelling on abdomen and legs is very serious. His breath becomes very difficulty.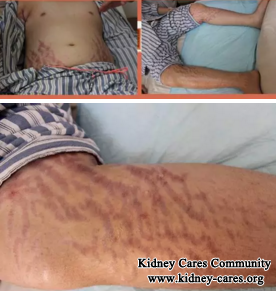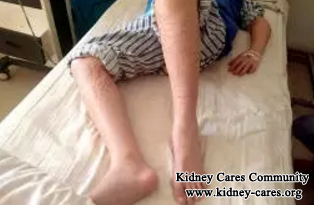 After diagnosis, blood ultrafiltration is used and at the same time our experts apply Four One Chinese Medicine Treatment for him. Through cleansing toxins in blood and recovering kidney filtration function to reduce urine protein, this is the radical way for eliminating swelling.
After four days of treatment, swelling is relieved greatly and also he has an easier breath.
Relieving urine protein plays a significant role in protecting kidney function. After two weeks of treatment, 24-hour urinary protein quantity is reduced to 2.29g from 8.56g.
Long term of swelling and urine protein is easy to cause acute kidney damage. Our Four One Chinese Medicine Treatment controls the progression of kidney disease effectively and timely. The root cause of kidney disease is because toxins in the blood damage the kidney filtration function, causing protein leaking into urine.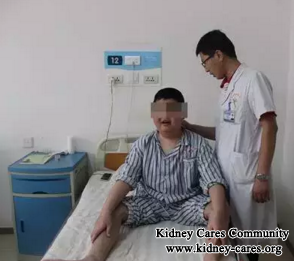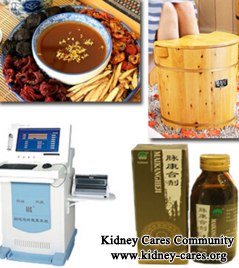 Blood ultrafiltration removes toxins out successfully, and Four One Chinese Medicine Treatment (Micro-Chinese Medicine Osmotherapy, Medicated Foot Bath, Mai Kang Mixture and Medicinal Soup) repairs injured kidneys and improve kidney function. In this way, swelling and protein in urine are both under control.
Steroids are not the radical way for Nephrotic Syndrome. If you want to treat Nephrotic Syndrome, Four One Chinese Medicine Treatment in Shijiazhuang Kidney Disease Hospital is your best choice. For more information, you can leave us a message below or send an email to kidneycares@hotmail.com. We will reply you as soon as possible.