Chinese Medical Treatments, Your Best Option To Decrease Creatinine Level 879umol/L
2016-04-06 03:25
Name: HUSSAIN AIL
Gender: Male
Age: 20 years old
Country: OMAN
Diagnose: High Creatinine
Patient Word: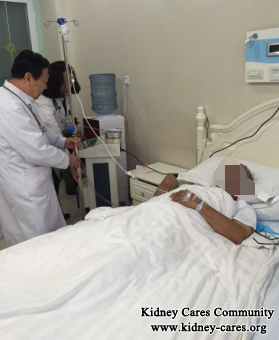 As we all know, creatinine level 879 umol/L is really a dangerous level and it means a severe decline of kidney function. Usually dialysis or kidney transplant will be recommended for patients in this condition to help maintain their life because their doctors think that dialysis or kidney transplant is the only way for patients with high creatinine level. However, is there any option for patients to lower their high creatinine level 879umol/L without dialysis or kidney transplant? Yes, of course. A patient from Oman has successfully decreased creatinine level 879umol/L without dialysis or kidney transplant. Please see the case in detail.
HUSSAIN ALI is from Oman and in 2012 his creatinine level was as high as 1200umol/L. At this time, his doctor thinks dialysis or kidney transplant will be the best option for him because the treatment can relieve some severe symptoms caused by declined kidney function and it can also help lower high creatinine level to some extent. After a period of dialysis treatment, his creatinine level decreased to 879umol/L which is till very higher than normal level and very dangerous for patients. So HUSSAIN ALI is seeking further and alternative treatment all the time.
After learning our unique and effective treatment for kidney disease on our website, he talked with our doctor and decided to come to our hospital-Shijiazhuang Kidney Disease Hospital for treatment. So on June 27th 2015 he came to our hospital.
After he was accepted by our hospital, our doctor made a thorough test for him. According to his new reports and new diagnosis, our experts made a systematic treatment plan for him. Our main treatment is Chinese medical treatment. One of the treatments is Four One Chinese Medicine Treatment which includes Micro-Chinese Medicine Osmotherapy, Medical soup, Mai Kang Mixture and Medicated Foot Bath. These therapies can expand blood vessels, improve blood circulation, prevent inflammation and coagulation, discharge wastes and toxins from the body and supply nutrients and oxygen to the kidneys. In this way, it helps repair injured kidney tissues and recover some part of kidney function.
After 18 days treatment in our hospital, his creatinine level was reduced to 479umol/L and he did not take dialysis when he left our hospital. Now he takes our natural medicines at home and keeps in touch with our doctor. He is very happy that he can live a life as a normal person.
We use natural Chinese medicines for kidney disease and aim to help more and more patients. If you have interest in our medicines, you can leave us a message to kidneycares@hotmail.com or consult our online doctor directly.