Chinese Medicines Treat Acute Kidney Failure Effectively
2016-04-14 05:52
Name: Chen Suiguo
Gender: Male
Age: 31 years old
Country: China
Diagnose: Acute Kidney Failure
Patient Word:
Acute kidney failure is often caused by acute infection or medications. Its character is urgent onset and sudden drop of kidney function. Timely and formal treatment is necessary.
Patient information:
Chen Suiguo had herpes on his legs in 2014. In his local hospital, he took acyclovir cream and acyclovir to relieve the pain. When the pain gets disappeared, he was injected acyclovir. During this process, he experienced persistent back pain so he stopped the medication. But back pain did not be relieved. Besides, he also suffered from other symptoms like nausea and shiver. Since his serum creatinine level increases to above 500umol/L, he was diagnosed with acute kidney failure. In order to get formal and radical treatment, Mr Chen comes to our hospital-Shijiazhuang Kidney Disease Hospital.
When he comes to our hospital, his serum creatinine level is 597umol/L. The prognosis of acute kidney failure is good if timely and systematic treatment can be taken.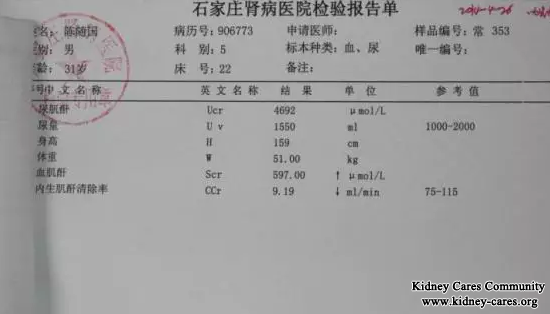 To treat acute kidney failure completely and prevent it from developing to chronic kidney failure, our experts make Chinese medicine treatment for him, including Four One Traditional Chinese Medicine Treatment.
MIicro-Chinese Medicine Osmotherapy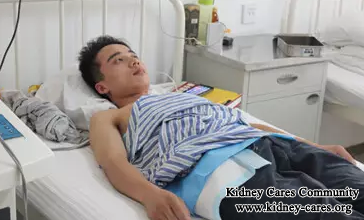 This therapy is our characteristic treatment. Chinese medicines are micronized by advanced technology and the active ingredients can come to kidney lesion directly through shenshu acupoint. It helps improve kidney microcirculation, supply more blood for kidneys and stop kidney cells from necrosis.
One Medicinal Soup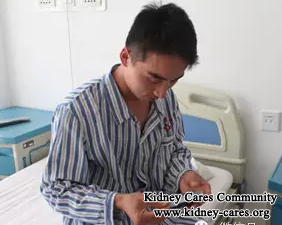 It refers that Three Major Herbal Formulas are created by a number of veteran doctors of TCM and many years of clinical experience. This therapy helps remove blood stasis, promote blood circulation to remove meridian obstruction and invigorate spleen and stomach.
One bottle of Mai Kang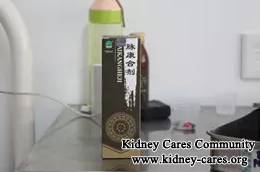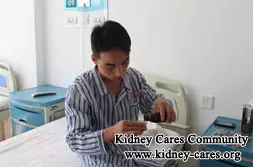 It is referred to Mai Kang Mixture created by our hospital. The main function of Mai Kang Mixture is to improve your health.
Foot bath


It refers to Chinese herbal foot bath. Foot bath can discharge toxins in the kidney meridian and make vitality flow to kidneys smoothly so as to recover kidneys' vitality.
The therapeutic effect shows obviously with our "Four One Traditional Chinese Medicine Treatment". Mr Chen will be discharged out of the hospital. As long as you choose correct treatment, you have a large chance to get recovered.