Natural And Effective Treatment For Mesangial Proliferative Glomerulonephritis
2016-04-14 05:53
Name: Zhang Ji

Gender: male
Age:
Country: China
Diagnose:
Patient Word: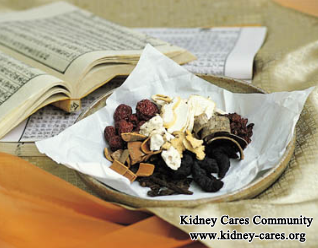 Patient Information:
Zhang Ji had double eyelid edema due to cold in 2008. He went to his local hospital for a checkup. The report showed his urine protein is 3+. He was diagnosed with Nephrotic Syndrome and given steroids. Symptoms disappear after two weeks of treatment. In 2009, he caught a cold again and edema appeared again. He took a renal biopsy in local hospital. At this time, he was diagnosed with mesangial proliferative glomerulonephritis. He took steroids and cyclophosphamide. He was discharged out of the hospital after his symptoms disappear. In June, 2009, he had swelling without reason. In order to seek systematic treatment, he comes to our hospital-Shijiazhuang Kidney Disease Hospital.
Doctor in charge-Shi Shufang
Mesangial Proliferative Glomerulonephritis is one kind of mesangial cell disease. Its prognosis in most cases is good and sometimes this disease can get self relieved. However, as for Zhang ji's condition, it is more difficult to treat it because there is relapse and massive proteinuria.
Although steroids can inhibit the proteinuria, they do nothing for injured glomerular basement membrane and cellular proliferation. This delays your condition.
Your 24-hour urine protein quantity is 2gram which is relatively high in mesangial proliferative glomerulonephritis.
The characteristic treatment in our hospital is Chinese medicine treatment.
With the function of promoting blood circulation to remove meridian obstruction, the active ingredients in Chinese medicines can cleanse immune complexes depositing in kidneys and improve renal ischemia state so as to stop renal cell hyperplasia and necrosis and protect kidney function. Then, western medicines are used to control the symptoms. The combination of western medicines and Chinese medicines can treat the disease from the root.
After a period of treatment, urine protein is kept in the controllable range. More importantly, with the recovery of kidney function, it makes the treatment effect more durable.
Up to now, Zhang ji has stopped taking any medication. Although he has several times of cold, no relapse occurs. He is thankful for Chinese medicine treatment in our hospital.