It Is Possible For Nephrotic Syndrome Patients To Avoid Renal Biopsy
2016-04-14 05:56
Name: Li Fang
Gender: Female
Age: 36 Years Old
Country: China
Diagnose: Nephrotic Syndrome
Patient Word:
Li Fang found that she had swelling in her legs and feet since 1th July last year. She did not take it seriously and just thought the swelling is caused by physical labour.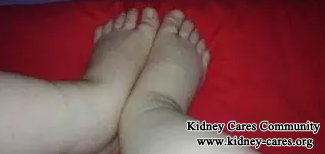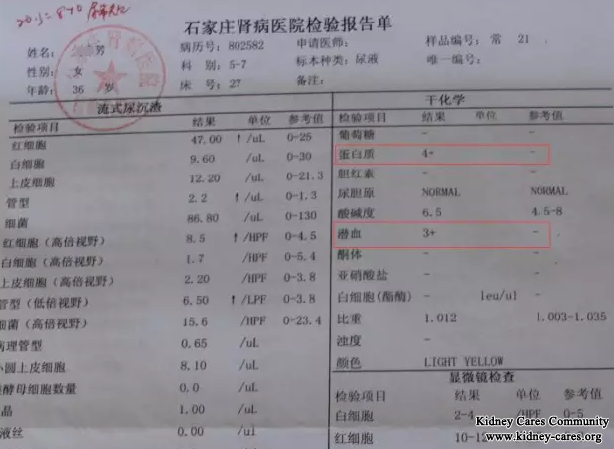 However, things do not go like her imagination. Her swelling becomes worse and worse. Sometimes after several days of rest, the swelling disappears. Under this condition, she decided to go to hospital for check up.
The medical report gives her a shock. There is urine protein 3+, urine occult blood 3+ and 24-hour urinary protein quantity 6.4g. She is diagnosed with Primary Nephrotic Syndrome. But the doctor tells her that it is not typical nephrotic syndrome so she needs to take renal biopsy. Renal biopsy helps give an accurate treatment plan.
Although Li Fang does not know clearly about the function of renal biopsy, she rejects the doctor's advice and insists on taking medications. The doctor has no choice but to prescribe her Furosemide Tablets.
It is impossible to treat Nephrotic Syndrome with only Furosemide Tablets. The therapeutic effect is not good. This is the reason why she comes to our hospital-Shijiazhuang Kidney Disease Hospital.
It is rare to see Nephrotic Syndrome patients having urine occult blood 3+. Occult blood indicates infection and infection indicates immune complex deposits. Therefore, if immune complexes are removed, the illness condition will get improved.
We use Chinese Medicine Treatment like Micro-Chinese Medicine Osmotherapy, Immunotherapy and Medicated Bath, etc to discharge immune complexes from the body. After two weeks of treatment, urine protein quantitation decreases to 2.90g/24h from 10.19g/24h. When Li Fang sees her medical reports, she is excited and has more confidence on her recovery.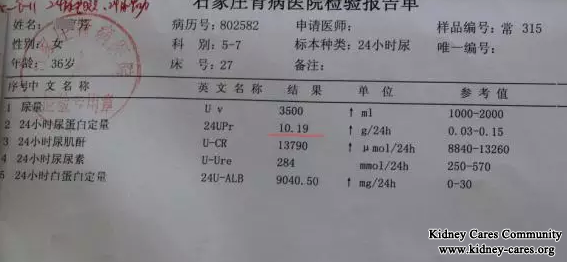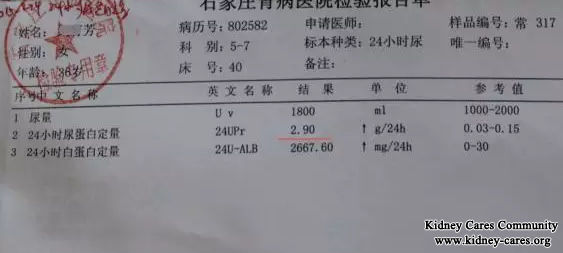 If you want to learn more information about Chinese Medicine Treatment, you can leave us a message below or send an email to kidneycares@hotmail.com. We will reply you as soon as possible.