Chinese Medicine Is Effective For Alport Syndrome
2016-04-14 05:57
Name: Xiaowu
Gender: Male
Age: 20 Years Old
Country: China
Diagnose: Alport Syndrome
Patient Word:
Xiaowu is an alport syndrome patient and he is 20 years old. He has come to our hospital ten times.
After three days of his born, xiaowu suffered from blood in urine. At that time, the doctor told his parents that there is no treatment for Alport Syndrome and generally this disease will develop to uremia before he is 20.
As parents, they could not bear to give up their child. Even though there is full of difficulties on the way of treatment, they will keep on going.
Before they come to our hospital-Shijiazhuang Kidney Disease Hospital, they had accepted treatment in other two hospitals. Since the curative effect is not obvious, they decide to come to our hospital for a try.
Within a decade, they come to our hospital for treatment every year and each time takes treatment for half of a month.
We try our best to control his proteinuria. More importantly, we use Chinese medicines to protect his kidney function. Therefore, his kidney function is protected well in these years.
On the basis of traditional Chinese medicine (TCM), Micro-Chinese Medicine Osmotherapy is created. This therapy is used externally and has functions of dilating blood vessels, preventing inflammation, degrading extracellular matrix, providing necessary nutrients and removing blood stasis. All these help set up an internal environment for kidney restoration. Gradually kidney function will be preserved and improved.
Although there is still some occult blood, protein in urine and kidney function is managed well. The three of them are very satisfied and excited when they see the medical reports. They hugged the nurse and burst into tears.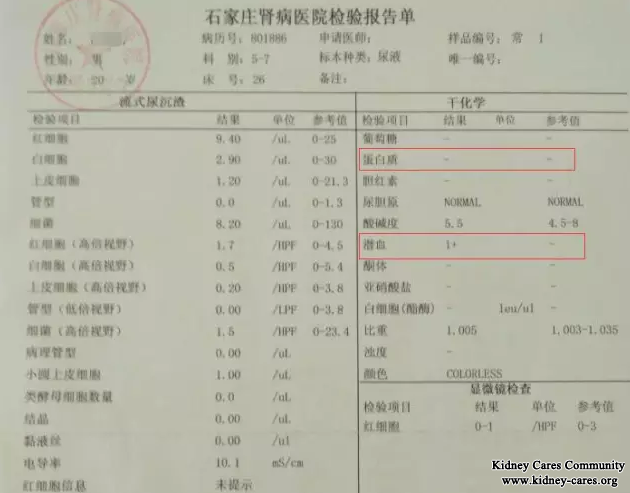 No matter which kidney disease you suffer from, as long as you take treatment to protect kidney function, it can be a "docile yeanling", otherwise it will become a "wicked wolf ".
If you want to know how to protect kidney function, you can leave us a message below or consult our online doctor. We will send you detailed information.