Why Does Nephrotic Syndrome Always Relapse
2016-04-21 05:58
Name: Li Fengjiao
Gender: Female
Age: 45
Country: China
Diagnose: Nephrotic Syndrome
Patient Word:
A Nephrotic Syndrome (NS) patient comes to our hospital-Shijiazhuang Kidney Disease Hospital for treatment. Although she also accepted treatment in the past two years, her condition has no any improvement and her kidney function continue to relapse. To seek for professional and radical treatment, she comes to our hospital.
The test reports in her local hospital show that 24 hour urinary protein quantity is 12 grams, plasma albumin is 15g/L, urea nitrogen is 22.1mmol/L, creatinine is 101umol/L and uric acid is 711umol/L. Her disease has been on the borderline of kidney dysfunction. She accepted steroids, cyclophosphamide, ciclosporin and other medication treatment. However, relapse still occurs.
To seek better treatment, she comes to Shijiazhuang Kidney Disease Hospital.
Here the doctors tell her the cause of kidney disease.
Deposits of Large amounts of immune complex lead to immune inflammatory reaction so as to result in kidney damage. Medications like steroids, cyclophosphamide and ciclosporin aim at inhibiting immuno-inflammatory responses but have no effect in cleansing immune complexes. That is the reason why nephrotic syndrome is easy to relapse.
After half a month of treatment, her kidney function is back to normal. Urea nitrogen is 6.8mmol/L, creatinine is 73umol/L, uric acid is 274umol/L.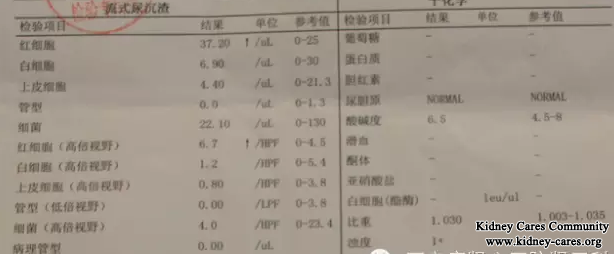 Through this treatment experience, this patient learns more. She tells us not to delay the disease.
If you want to learn our specific treatment, you can send an email to kidneycares@hotmail.com or consult our online doctor directly. We will reply you as soon as possible.