We Save A 12-Year-Old Girl With Systemic Lupus Erythematosus
2016-04-21 05:52
Name: Li Xiaona
Gender: Female
Age: 12
Country: China
Diagnose: Systemic Lupus Erhthematosus (SLE)
Patient Word:
Li Xiaona is only 12 years old this year but she seems that she has lived for 4 years in the hell. This begins from 4 years ago.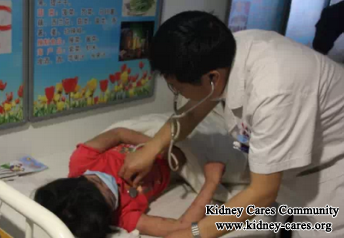 When Nana was 8 years old, erythema appears on her face suddenly and her whole body felt weak. Her joints also began to ache. After diagnosis, she was diagnosed with Systemic Lupus Erythematosus. From then on, her life became hell.
Systemic Lupus Erythematosus is a dangerous disease and it costs a lot. This is a burden to a not well off family. What is worse, her mother abandoned her. Her mother got divorced with her father. Only her father accompanies Nana. Nana accepted several treatment in Beijing but there was no therapeutic effect after 4 years of treatment. There is another sentence in Nana's heart: This world abandons me as well.
To save the daughter, the father did everything possible to seek effective treatment for Systemic Lupus Erythematosus. Under other kidney disease patients' introduction, Nana came to Shijiazhuang Kidney Disease Hospital.
In our hospital, Dr Zhang Lei gave them confidence and hope: Even if the world give up you, we do not give up and abandon you.
Through our characteristic and systematic Chinese medicine treatment, Nana's condition has a great improvement. The ache is relieved and Nana can sleep well and eat well. More importantly, Nana begins to laugh.
Before treatment After treatment