Do Not Miss the Best Treatment Opportunities for Diabetic Nephropathy
2016-04-21 05:49
Name: Victor
Gender: Male
Age: 54
Country: Philippines
Diagnose: Diabetic Nephropathy
Patient Word:
Victor has suffered from Diabetic Nephropathy for 9 years.
It is in 2004 that he was diagnosed with Type 2 Diabetes. But he refused to receive medical treatment and just use diet to control his blood sugar level.
In 2005, after physical examination, he found that protein in urine was 2+ and his serum creatinine raised to 246.4 umol/L. And then he was diagnosed with Diabetic Nephropathy and used ramipril to control his state of illness. But because its therapeutic effect was not good, he stopped the treatment.
In 2010, his creatinine increased to 475 umol/L and his kidneys began to shrink. But because he knew few knowledge of kidney disease and his doctor did not have detailed introduction to such a disease, he did not take any treatment.
In March 2014, he had dizziness, so he went to hospital again. This time his blood pressure was as high as 180/100mmHg, and his creatinine level rose to 572 umol/L. Therefore, he had to undergo dialysis twice a week in the local hospital and ate amlodipine tablets. After several months of treatment, there is no improvement in his physical condition.
In order to receive further treatment, he came to Shijiazhuang Kidney Disease Hospital.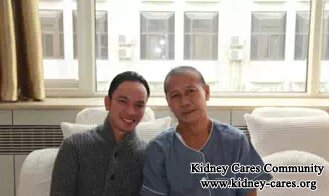 The left boy is Billy, Victor's nephew, who majors in nursing care. He accompanied his uncle to come to China.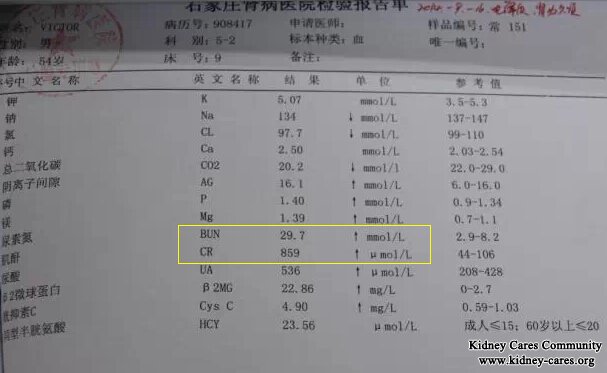 When Victor came to our hospital, his serum creatinine was as high as 859 umol/L and his disease entered uremia. The reason why he had such a case is that he did not receive any regular treatment when he developed kidney function impairment, and the treatment he received before was just dialysis to detoxify the blood and medications to control blood pressure, which had no improvement in kidney function.
As to Diabetic Nephropathy Treatment, we should set about improving the blood problems. Because of high blood sugar level, their blood becomes thickness, which can block capillaries, leading to ischemia and anoxia, which can scar the renal cells. When renal arterioles are blocked, blood pressure increases.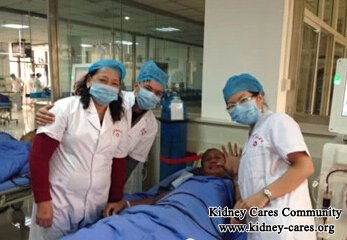 In our hospital, we use hemofiltration to detoxify the blood, which is better than hemodialysis. We also use some Traditional Chinese Medicine (TCM) treatment, such as Micro-Chinese Medicine Osmotherapy, Medicated Bath, Mai Kang Mixture and various Medicinal Soup to dilate blood blood vessels and remove stasis to improve ischemia and anoxia. They can also supplement the essential nutrients for damaged kidneys to help them recover.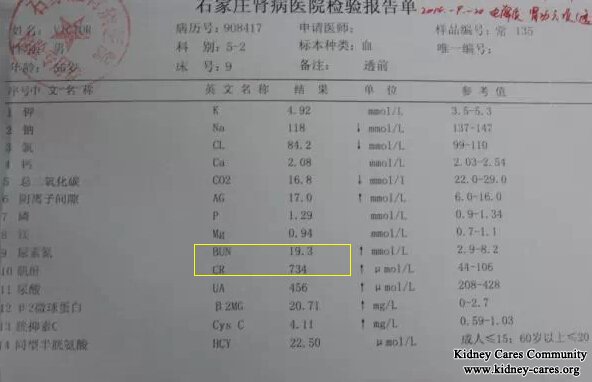 After 10 days treatment, Victor felt better. His pale skin turned red and dizziness, nausea and some other symptoms disappeared.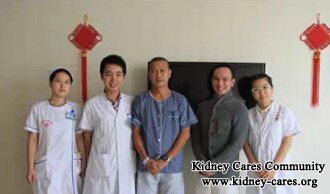 Now Victor was very regret that he did not receive treatment when his diabetes was not so serious. Hope he can recover as early as possible to lead a normal life. If you have the similar medical condition, do not miss the best treatment opportunities.