PKD Treatment Experience In Foreign Countries And China
2016-04-21 05:49
Name: RUTAGENWA
Gender: Male
Age: 49
Country: Rwanda
Diagnose: Polycystic Kidney Disease (PKD)
Patient Word:
RUTAGENWA is from Rwanda and suffers from uremia. Local doctors tell him that dialysis three times a week is his last hope. He does not believe this so he carries the last bit of hope for treatment in China. The therapeutic effect in China surprises him.
PKD Treatment in foreign country
In 2009, RUTAGENWA was diagnosed with polycystic kidney disease (PKD). At that time,urine protein is only 1+ and serum creatinine level is 120umol/L. No medical treatment was applied.
In June 2010, RUTAGENWA had sudden headache and found that his serum creatinine level was up to 320umol/L. The doctor only told him to pay attention to his diet. Medical treatment still does not be recommended.
In 2011, medical reports showed that serum creatinine became 960umol/L. Dialysis three times a week was recommended for him.
However, dialysis does not improve his medical condition and lower his high creatinine level. Before dialysis, his creatinine is 1200-1400umol/L. After dialysis, creatinine is 820-940umol/L.
After four years of dialysis, serum creatinine level is still 1330umol/L. He also has no urine output.

PKD Treatment in China
The aim for him to come to China is very simple. RUTAGENWA just wants to find a hospital to control his condition, stabilize his creatinine level and stop his kidney cysts growth.
In our hospital-Shijiazhuang Kidney Disease Hospital, dialysis three times a week is changed into one time a week. Besides, we mainly use characteristic Chinese medicine for PKD. His creatinine level decreases to 1039umol/L from 1330umol/L. After first dialysis, serum creatinine is 434umol/L. This result surprises RUTAGENWA.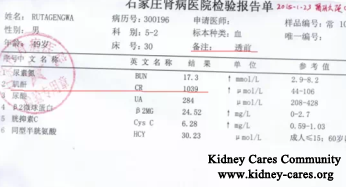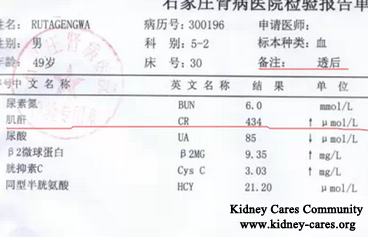 After second dialysis, his creatinine level becomes 406umol/L from 1036umol/L.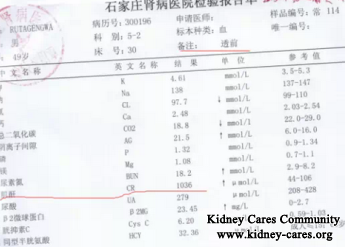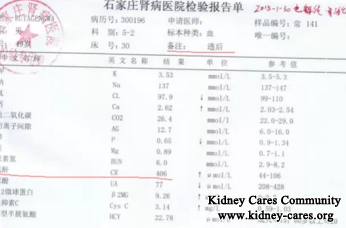 More exciting is that the size of kidneys and kidney cysts both become smaller.