PKD Treatment Come To An End With Interventional Therapy
2016-04-21 05:37
Name: Mr Chen
Gender: Male
Age: 50
Country: China
Diagnose: Polycystic Kidney Disease (PKD)
Patient Word:
Mr Chen is a polycystic kidney disease patient. This year, it is his 50-year-old birthday. The family members are going to celebrate his birthday, but sudden occurrence of hematuria makes the whole family worried too much. Kidney cyst rupture leads to hematuria and acute infection.
Mr chen think that it does not make sense to continue further treatment because he has tried all treatment methods. However, when he comes to our hospital-Shi Jiazhuang Kidney Disease Hospital, he begins to see the hope of life again. The doctor in our hospital tells him that although PKD has relation with genic inheritance, the root cause of PKD is caused by hyperactivity of lining epithelial cells. As long as you prevent its activity, it is possible to treat PKD.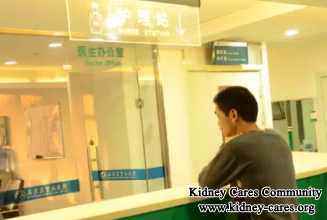 Mr Chen has never heard of lining epithelial cells and his son surfs the internet for lining epithelial cells. Chen is confidence to this doctor. During ten years of treatment, no doctors tell him his disease clearly.
How to inhibit the activity of lining epithelial cells?
Doctor tells him that activity of lining epithelial cells can be inhibited by medicines. There are western medicines and Chinese medicines for that. But both of them work slowly. In our hospital, we use interventional therapy for PKD.
Under the help of image documentation equipment, ultrafine catheter is put into kidneys. Medicines can come to kidney lesion directly and have the functions of repairing renal microvascular congestion and deformity and other medical conditions. Interventional therapy not only has quick effect but also has high safety coefficient.
Simply speaking, interventional therapy is a remedy to put medicines into kidneys directly.
In addition to new medications, it is also vital to choose proper medicines.
Medications for inhibiting lining epithelial cells include Rosiglitazone, rapamycin and celecoxib, but these medications are still in testing stage.
In our hospital, we choose characteristic Chinese medicines which can not only prevent activity of lining epithelial cells, improve renal ischemia and hypoxia state, maintain the survival environment of renal cells, also help recover kidney function.
PKD treatment comes to an end with interventional therapy
The occurrence of interventional therapy brings new hope for Chen with PKD. Although PKD can not be treated from the root, we can prolong its relapsing time and minimize its harms to human body.