Is Chinese Medicine Better for Membranous Nephropathy than Western Medicine
2016-04-21 03:51
Name: Liu Huijun
Gender: Female
Age:
Country: China
Diagnose: Membranous Nephropathy
Patient Word:
The symptoms most common to see in kidney patients is proteinuria. Conventional treatment for proteinuria is to use steroids.
In March, leg swelling occurred to Mrs Liu without any reason. After physical examination in local hospital, it showed that she had protein 3+, BLD 3+ and blood pressure 150/100 mmHg. And she was diagnosed with Membranous Nephropathy after renal biopsy and hepatitis B. Therefore, doctors prescribed prednisone and cyclophosphamide for her. But considering that those medicines have many side effects, she refused western medicine treatment and chose TCM treatment. But this treatment did not receive a good therapeutic effect. In order to bring state of illness under control, she had to receive steroid treatment, but the effect was still not satisfying. Once in a while, she heard of Shijiazhuang Kidney Disease Hospital and came here to receive a comprehensive treatment.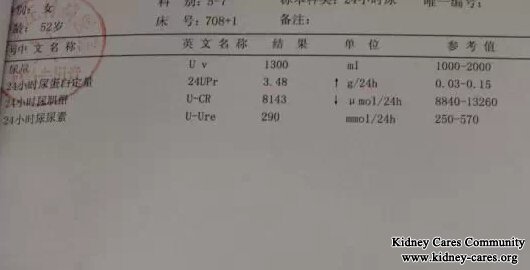 From the above medical test report, we can see that her 24 hour urine protein is 3.48 g.
The characteristic treatment of Shijiazhuang Kidney Disease Hospital is TCM treatment. We do not only explore more effective medicines, but also create many prescriptions for various medical conditions as well as many external therapies to help make the most of the oral medicine.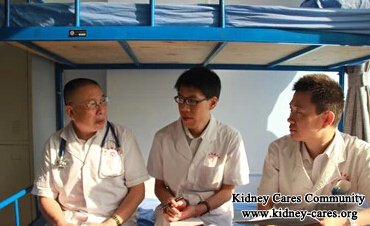 After having a comprehensive knowledge of Mrs Liu's medical condition, Director Guo helped improve her treatment plan and her personal doctor Zhang spent a lot of time explaining her disease to her and why she did not receive a good effect with the treatment before.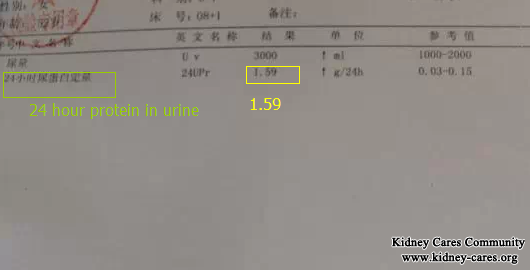 After ten days' treatment, her urine protein reduced obviously, urine output increased and swelling disappeared already. With the improvement of poor appetite, her weak feeling was alleviated as well. What is the most important, she could have a good sleep.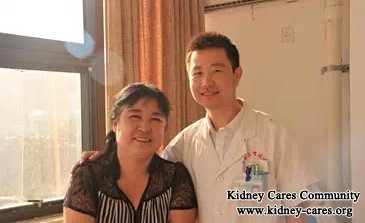 Now let's have a look at her picture. Her pale skin turned red and she felt very happy.
Chinese medicine takes effect slowly than western medicine when used to treat kidney disease. But its associated symptoms can be brought under control in a week and after half months' treatment, there will be obvious improvement. If you still do not achieve an obvious effect in month, it indicates that you do not find a suitable treatment plan.