A 18-Year Old Girl With Three Years Of Purpura Nephritis
2016-04-21 02:26
Name: Xiaoqian
Gender: Female
Age: 18 Years Old
Country: China
Diagnose: Purpura Nephritis
Patient Word: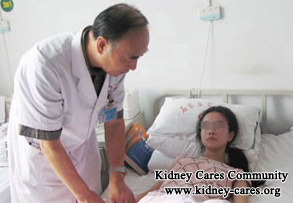 When entering the corridor of the hospital ward, we hear a cheerful laughter. Actually this laughter is from a 18-year-old girl who has purpura nephritis for three years.
A 18-year-old girl with purpura nephritis
Her name is Xiaoqian and she is 18 years old. Calculated by this age, she should be in high school now like her peers. Actually she has been in hospital for about 3 years. 3 years ago, she was diagnosed with purpura nephritis. Urine protein is 3 plus and occult blood is 3 plus. She accepted treatment in a Beijing's hospital. She took treatment for two years in dermatology and the doctor only prescribed steroid therapy for her. After discharged the hospital, she needs to take check up every month.
No therapeutic effect during these two years' treatment
During two years' treatment, Xiaoqian does not know what purpura nephritis is and she also does not know what medications she took. The medical cost for one month is over 4 million but her medical condition has no improvement. She really does not know what to do and lose hope for her disease.
One of her aunts also has this kind of inherited disease and she took treatment in Shi Jiazhuang Kidney Disease Hospital. Her aunt's check index is normal so Xiaoqian also comes to our hospital under the companion of her mother.
Get recovery from immunotherapy
In Shi Jiazhuang Kidney Disease Hospital, our experts make detailed diagnosis of her disease. The result is purpura nephritis and plus urine protein as well as occult blood 3 plus. Since she took steroids for many years, she has moon face and buffalo hump. According to her medical conditions, she was applied immunotherapy and Chinese medicine treatment which prevents inflammatory reaction effectively and stops further kidney damage. Inflammatory reaction was stopped but immune complexes depositing in kidney was still there. At this time, Micro-Chinese Medicine Osmotherapy was used to cleanse immune complexes. No immune complexes deposition contributes to recover kidney function. And then oral Chinese medicine helps repair damaged kidney cells and adjust your immunity. When immunity is improved, kidney disease was not easy to relapse. After one month of treatment, xiaoqian gets recovery and leaves our hospital healthily and happily.