One Thank-You Note from A Foreign Diabetic in Chinese Hospital
2014-01-14 15:53
Name: Paul Lahari
Gender: Male
Age: 45
Country: Papua New Guinea
Patient Word: The professional approach and attitude here are of the highest quality second to none! It was like we were "family".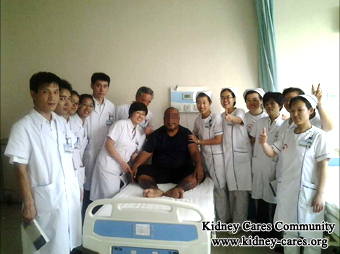 I am a confirm diabetic when I came to Shijiazhuang Kidney Disease hospital on June 25th 2013.
After my coming, the doctors didn't waste any time and conducted different medical tests to pinpoint my primary problem. Within one day, I was told about the major complications of diabetes that were happening to my body.
Firstly, my blood lipid was high which affected the overall blood circulation in my body. Secondly, my blood sugar has always been on a high and was uncontrolled. As a result, I developed inflammation and redness of skin on my lower legs with chronic severe pains. It affected my walking and standing. Even I had painful sleepless nights.
Medical strategies were discussed and immediately introduced: 1) Strict diet 2) Exercise 3) Medication (Osmosis therapy and foot bath to improve and boost blood circulation). After only 11 days of treatment, my blood sugar has hit a record low of 6s and the inflammation, redness with pains on both my legs are gone, gone, gone! I am able to walk. First it was a 5-minute walk in the hospital's hallway; then 10 and now 20 minutes (after breakfast, lunch and dinner).
I want to sincerely thank Dr. Joelin (the team leader who took charge of my medical issue), the humble medical professors (both medical & herbal), the head nurses and nursing staff ( "Kicko" in particular). There are many in the team at Shijiazhuang Kidney Disease Hospital which I didn't mention because of space who contributed. You were all outstanding! The professional approach and attitude when attending to your patients are of the highest quality second to none! It was like we were "family".
I salute you all!
Paul Lahari
Diabetic type 2 patient
Port Moresby
Papua New Guinea