Foreign Patients In Our Hospital Spent Corban Festival Together
2017-09-02 06:45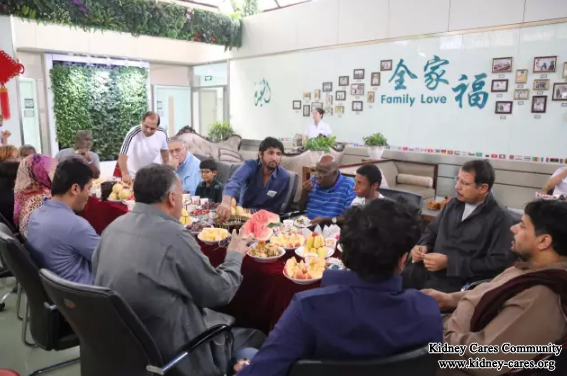 Corban festival on September 1th is a traditional festival of Muslim. In order to let kidney patients who belong to Muslim from Oman, Bahrain, Saudi Arab, Bangladesh and Pakistan spend a happy and peaceful festival, our international department in Shijiazhuang Kidney Disease Hospital held a party for them.
Corban festival is the traditional festival of Muslim and it is also very important to moslems .
Yesterday, the international department is very lively. There were abundant food and sincere blessings.
"It is my first time to spend festival abroad. I had thought it would be very simple. But it is really solemn. Many partners spend together and this makes us feel at home. We are not alone". A patient said.
A patient from Oman introduced that it is his first time to get Chinese medicine treatments. I am very luck to spend Corban festival. Also in my tough time, I meet Chinese doctors who give me a better life. It is unforgettable memory. I will share this happiness with my family members in Oman.
Later on, other foreign patients also joined this party. They chatted and shared their feelings. We medical staff wished them a early recovery.
The Belt and Road paves a good international environment for spreading Chinese medicines and the trust of people along the road to Chinese medicine is getting higher and higher. Under this backgroud, Shijiazhuang Kidney Disease Hospital will spread Chinese medicine culture out and our Medical group for revisiting patients has visited Oman, Russia, Pakistan, Singapore, Philippines, Bangladesh, Kenya, Malaysia, Nigeria and Saudi Arab, etc. We get a good response.