Shijiazhuang Kidney Disease Hospital Joined 2016 World Health Tourism Industry Exposition
2017-03-02 07:55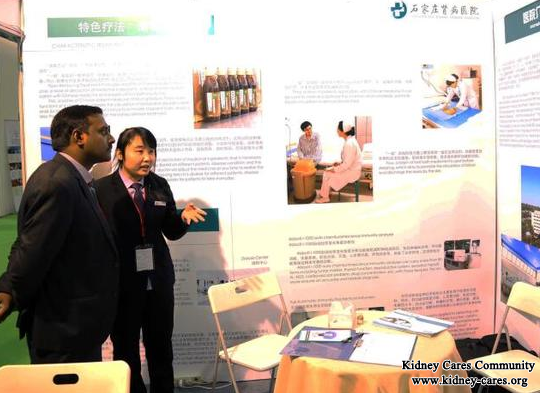 2016 World Health Tourism Industry Exposition hosted by international medical tourism association was held in Beijing International Exhibition Center on 18th November and Shijiazhuang Kidney Disease Hospital was asked to attend the meeting. Our hospital showed other foreign medical institutions Traditional Chinese Medicine Treatments and helped the development of International Medical Health Industry in The Belt and Road.
In exposition, Shijiazhuang Kidney Disease Hospital showed foreign delegations' Chinese medicine treatments. The translators with different language let people know profound Chinese medicines, introduced development of TCM and some specialized knowledge about keeping in good health. This has achieved consistent critical acclaim.
As in-patient department of international standard, our hospital treats kidney disease with Medicated Bath, Acupuncture, Hot Compress Therapy and Moxibustion Therapy as well as other Chinese medicine therapies. Also it provides several language's consultant about Chinese medicine treatments. We provide patients high quality srvice including one patient, one expert, one doctor, one translator and one nurse. Up to now, this hospital has treated thousands of patients from more than 140 countries.
To carry out Internet and Medical Care, this hospital provides consultant service with several language via phone, Whatsapp and skype, etc, provides special service for more patients from Middle East, respects each patient's national customs, religious habits and living habits. With the aim of Expanding Health Care Industry of The Belt and Road, Guiding Health Industry Development, this hospital makes Chinese Medicine Service national.
In exposition, medical institutions like German, America, Russia, Turkey, Tailand, Korea, India, UAE and Saudi Arab, etc all take part in this meeting.