You Can Stop Steroids In Nephrotic Syndrome
2018-12-25 05:43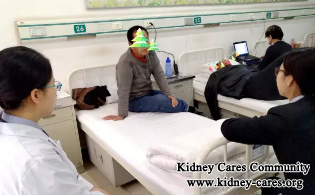 Nephrotic Syndrome patients all look forward to stopping steroids. However, is it possible to stop steroids? How to stop steroid therapy in Nephrotic Syndrome? Follow us to see the answer.
2 years ago, Mr Cui was just diagnosed with Nephrotic Syndrome and he took treatment in his local hospital. The treatment at that time was very simple:
Steroid therapy and take steroids for 12 tablets
When 12 tablets were reduced to 3 to 4 tablets, relapse occurred.
He went to another hospital but the treatment was also steroid therapy. He began to take 12 tablets again. When it was reduced to 3-4 tablets, relapse happened again.
Mr Cui thought if he continued the treatment, relapse would repeat. He should change the treatment and look for better treatment.
Mr Cui had a sister who was a purpura nephritis patient and took treatment in our hospital. The therapeutic effect was good so Mr Cui also wanted to have a try.
When he just came to our hospital, his ankles were swollen and his face was also big due to moon face from steroids.
His severe swelling was from 24h urine protein quantity 5.73g. The radical cause is injured glomeruli which can not keep protein in your body. Protein will leak into urine, causing massive proteinuria and severe swelling. Thus, the key point in kidney disease treatment is to repair injured kidney tissues and improve renal function. Only in this way can proteinuria be controlled and swelling disappear.
In our hospital the treatment we use is a systematic Chinese Medicine Treatment including Medicated Bath, Medicated Foot Bath, Micro-Chinese Medicine Osmotherapy, Medicinal Soup, Steaming Therapy and Enema Therapy, etc. According to your illness condition, our doctor will choose proper treatment for you. Generally several treatments will be used together rather than one single treatment. Diifferent therapy has different function. They combine together to repair damaged glomeruli and stop protein from leaking into urine.
After 10 days of our Chinese medicine treatments, his urine protein and occult blood are back to normal. 24h urine protein quantity was 0.09g. What makes him more excited is his steroid dosage is reduced to 3 to 4 tablets at this time. 3 months later, he stopped steroids . Moreover, the side effects from steroids all disappear.
With Chinese Medicine Treatment, Nephrotic Syndrome can be controlled from the root and steroids can be stopped. If you want to learn more information, you can leave a message below.
Our Treatment Effect
Swelling is an obvious sign of Nephrotic Syndrome
Move the mouse to enlarge the picture
Look, this patient has severe leg swelling which has made her feel pain and can not get out of the bed. In order to seek better treatment, she came to our hospital for Chinese medicine treatments. 30kg of fluid was removed from her body in less than a month. Her leg swelling disappeared completely. Now you can see her long legs again.
Proteinuria can also be seen in kidney patients
Move the mouse to enlarge the picture
Look, this patient has severe proteinuria when he just came to our hospital. With our Chinese medicine treatments, his condition was better and better. Bubbles in urine gradually reduced and finally disappeared in 10 days of treatment.
New Zealand Patient Second Visit to Our Hospital for TCM
Nephrotic Syndrome Illness Analysis