Unique Chinese Medicine Treatment for Nephrotic Syndrome
2019-01-09 09:50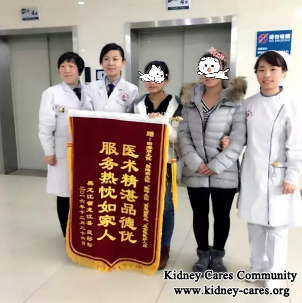 One week ago, a patient's Nephrotic Syndrome relapsed. She went to local hospital for check up. Her urine protein quantity was 3g. It required timely treatment. But once she took medicine, she would vomit and could not eat any food. Thus, she wanted to find alternative treatment for her Nephrotic Syndrome.
Through internt consultant, she found our hospital has many alternative therapies for kidney disease. And our therapies are used externally and cause no side effects. Under the accompany of her mother, she decided to come to our hospital for treatment.
With many years of clinical experiment, our nephrologists create many unique Chinese Medicine Therapies such as Medicated Bath, Medicated Foot Bath, Mai Kang Mixture, Moxibustion Therapy, Micro-Chinese Medicine Osmotherapy and Medicinal Soup, etc. They can treat Nephrotic Syndrome from the root.
When she just arrived at our hospital, her urine was only 500ml. Urine protein in Nephrotic Syndrome results from inflammatory response. The serious proteinuria will affect your kidney function so as to cause high creatinine level, high uric acid level and decreased urine volume as well as other symptoms from declined kidney function.
After our experts' discussion, her doctor in charge-Dr Tian made a systematic treatment plan for her condition. It included western medicines and Chinese medicines. At the first week, her creatinine level reduced to 79umol/L from 183umol/L and her uric acid level also decreased. At the same time, her urine output increased every day. Few days later, her urine volume was stabilized to 1500ml.
The root cause of kidney disease is toxins depositing in blood and kidneys. It is these toxins that cause immune-inflammatory reaction. The treatment for kidney disease should first clear out toxins in blood and kidneys. A clean blood system is able to set up a favorable environment for your injured kidneys to heal themselves. Nowadays, in western medicines, there are no effective medicines that can remove toxins out. This is also the reason why patients have frequent relapse with western medicines. Western medicines only control the symptom not the disease while our unique Chinese medicine treatments can repair injured kidney tissues and eliminate symptoms from the root. Our systematic Chinese Medicine Treatments are usually combined together to treat kidney disease. But which therapy is given to you depends on your specific illness condition.
With a good recovery, she sent our hospital a silk banner to express her thanks to us. She will become better and better.
Our Treatment Effect
Swelling is an obvious sign of Nephrotic Syndrome
Move the mouse to enlarge the picture
Look, this patient has severe leg swelling which has made her feel pain and can not get out of the bed. In order to seek better treatment, she came to our hospital for Chinese medicine treatments. 30kg of fluid was removed from her body in less than a month. Her leg swelling disappeared completely. Now you can see her long legs again.
Proteinuria can also be seen in kidney patients
Move the mouse to enlarge the picture
Look, this patient has severe proteinuria when he just came to our hospital. With our Chinese medicine treatments, his condition was better and better. Bubbles in urine gradually reduced and finally disappeared in 10 days of treatment.
New Zealand Patient Second Visit to Our Hospital for TCM
Nephrotic Syndrome Illness Analysis