Successful Patient Story Of Nephrotic Syndrome In Our Hospital
2016-05-06 03:43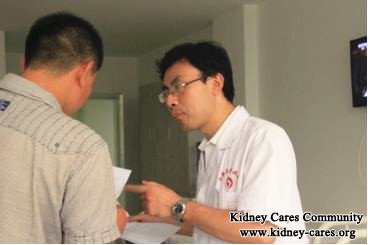 This article will give you a successful patient story of Nephrotic Syndrome in our hospital-Shijiazhuang Kidney Disease Hospital. Follow us to find the detail. If you have any question, please feel free to leave a message below or consult our online renal expert directly.
Mr Chen suffered from swelling in eyelids and lower limbs after a cold in July, 2014. He went to hospital for a check up and urine protein was 3+++. He was diagnosed with Nephrotic Syndrome. His doctor prescribed him steroid therapy. After 20 days of hospitalization, urine protein was relieved but after a while it became worse again. Then he began to take cyclophosphamide. Urine protein became negative gradually. He stopped steroids in August, 2015.
However, due to cold, his urine protein became positive again and swelling occurred again. In order to seek further treatment, he came to our hospital-Shijiazhuang Kidney Disease Hospital for treatment.
In consideration of frequent relapse, our experts give him Chinese Medicine Treatment. Chinese medicines work slowly but they treat disease from the root. After many years of clinical experiment, we found out that the root cause of kidney disease is polluted blood. Our treatment aims to purify blood. Our Chinese medicines are different from person to person. We will make a systematic Chinese medicine treatment plan including oral Chinese Medicine Soup, Medicated Foot Bath, Micro-Chinese Medicine Osmotherapy. Seven day is a course.
After three months of treatment, all levels are in control. In the beginning of January, 2016, Mr Chen was discharged out of our hospital. Up to now, it has been four months and he has no relapse. His condition is very stable. Mr Chen calls us many times to express his thanks to our hospital.
If you or your loved one have Nephrotic Syndrome, you can have a try of our Chinese medicine treatments. We will give you a new hope. Our contact information is kidneycares@hotmail.com or leave a message below.