Unique Chinese Medicine Treatment Help You Avoid Nephrotic Syndrome Relapse
2016-01-01 03:52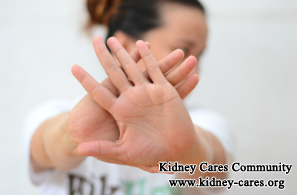 As we all know, the most prominent characteristic of Nephrotic Syndrome is relapse. Patients all want to avoid the relapse. But they cannot find the correct hospital and correct treatments. In Shijiazhuang Kidney Disease Hospital, unique Chinese medicine treatments can help you avoid nephrotic syndrome relapse.
A patient was diagnosed with Nephrotic Syndrome one year ago. She took steroids and cyclophosphamide. But she had no improvement after one month of treatment. She transferred to another hospital. Steroids and cyclophosphamide were also applied to her. There was no improvement after three months of treatment. Her urine protein became 3+++ and occult blood was 2++. She had severe muscle cramps and bloated stomach. She cannot figure out that why her condition becomes worse and worse.
On the recommendation of a kidney patient, she decided to come to our hospital for a try. When she was admitted, we formed an expert group and made a treatment plan according to her illness condition and medical reports. We arrange Chinese medicine treatments for her nephrotic syndrome. And our Chinese medicine treatment is a systematic treatment including Micro-Chinese Medicine Osmotherapy, Medicated Foot Bath, Mai Kang Mixture and Medicinal Soup. Different therapy has different function. And different therapy suits for different illness condition. So if you also want to avoid relapse of nephrotic syndrome and want to try our natural Chinese Medicine treatments, you can send your medical reports to kidneycares@hotmail.com. Our doctor will give you treatment plan after analyzing your condition.
After 20 days of treatment, her urine protein becomes 1+ and occult blood disappears. Swelling on feet and hands also disappear.
Our Chines medicine treatments also help activate the self-healing ability of kidney cells, relieve renal ischemia and anoxia state and improve kidney function. It is possible for kidney dialysis patients to get rid of dialysis naturally. More and more patients come to our hospital for treatment.
Our Treatment Effect
Swelling is an obvious sign of Nephrotic Syndrome
Move the mouse to enlarge the picture
Look, this patient has severe leg swelling which has made her feel pain and can not get out of the bed. In order to seek better treatment, she came to our hospital for Chinese medicine treatments. 30kg of fluid was removed from her body in less than a month. Her leg swelling disappeared completely. Now you can see her long legs again.
Proteinuria can also be seen in kidney patients
Move the mouse to enlarge the picture
Look, this patient has severe proteinuria when he just came to our hospital. With our Chinese medicine treatments, his condition was better and better. Bubbles in urine gradually reduced and finally disappeared in 10 days of treatment.
New Zealand Patient Second Visit to Our Hospital for TCM
Nephrotic Syndrome Illness Analysis