Kidney Failure: Is Dialysis The Only Treatment
2018-12-22 02:46
Is dialysis the only treatment for kidney failure? In western countries, there is no other way besides dialysis and kidney transplant. But in China, our hospital can help patients avoid dialysis.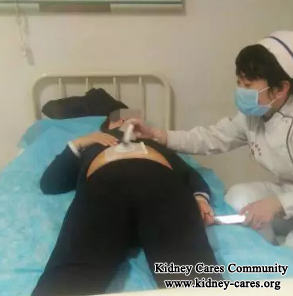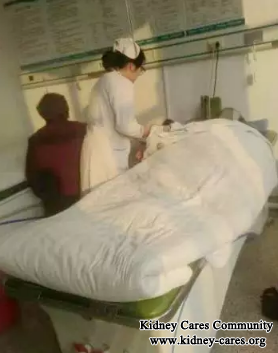 First, let's see the progression into uremia.
Occult blood-nephritis
Massive proteinuria, hypoproteinemia-Nephrotic Syndrome
Creatinine level increase –kidney failure
Creatinine level over 707umol/L-Uremia
Treatment for this condition
Nephritis-Reduce proteinuria and occult blood
Nephrotic Syndrome-Eliminate swelling and reduce proteinuria
Kidney failure-lower high creatinine level, decrease high blood pressure and correct anemia
Uremia-reduce high creatinine level, dialysis, control complications
All these aim to control symptoms but can not treat the disease from the root. Once you reduce or stop the medication, your condition will relapse again. Is there any treatment to stop its relapse.
Second, there is a successful patient story in which the patient successfully gets rid of dialysis.
A woman, 45 years old was suggested by the local hospital to take dialysis treatment. But she rejected. She did not want to take dialysis for her rest of life. Under the help of friend's introduction, she came to our hospital for unique Chinese medicine treatment. In our hospital, there are many therapies including Medicated Bath, Mai Kang Mixture, Moxibustion Therapy, Micro-Chinese Medicine Osmotherapy, Medicinal Soup, Steaming Therapy and Enema Therapy, etc. According to different condition, different therapy will be used. Usually patients need to take several treatments at the same time. Different therapy has different function. Various therapies combine together to treat kidney failure from the root.
Before our treatment, her serum creatinine level was 548umol/L, urea nitrogen 31.3mmol/L and uric acid was 422umol/L.
One of unique treatments she took in our hospital is Umbilical Therapy. It makes use of your naval and damp-health function of maxa to make Chinese medicines play maximum function and arrive at kidney lesion directly through skin permeation. This therapy can help achieve the function of enhancing your kidneys, invigorating qi and blood.
Besides, she also took our Steaming Therapy. Its main function is to make you sweat and make active ingredients of Chinese medicines permeate into your blood and kidneys effectively through skin permeation so as to treat kidney disease.
After 13 days of Chinese medicine treatments, her serum creatinine level was reduced to 342umol/L, urea nitrogen was reduced to 15.6mmol/L and uric acid was back to normal.
Do not rely on dialysis only. Actually there are many therapies that can help you repair kidney damage and improve renal function so that you can get rid of dialysis naturally. Dialysis is not the only treatment in China.
Our Treatment Effect
High creatinine level is dangerous to a kidney patient
Move the mouse to enlarge the picture
If you also want to reduce your high creatinine level, please look at this patient's report. When he was just hospitalized in our hospital on Dec 11, 2018,
His creatinine:1028umol/L,
urea: 39.7mmol/L
UA : 513umol/L
After a period of our treatment,
his creatinine:331umol/L, urea:16.1mmol/L
UA :325umol/L on Jan 5, 2019.
His condition was getting better and better. You can also get better.
For a CKD patient, you can choose Chinese medicine treatments to control your condition. your creatinine level can be reduced radically, symptoms can be alleviated and more importantly, your renal function will be improved. In this way, you can stay away from end stage kidney disease and avoid dialysis.