Medicated Bath Treat A Kidney Failure Patient From Iraq
2016-06-28 03:39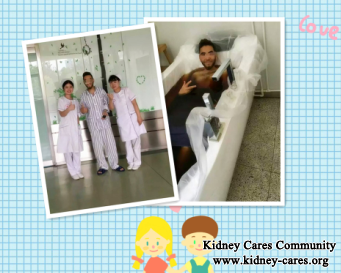 Medicated Bath is one of characteristic Chinese medicine therapies in our hospital-Shijiazhuang Kidney Disease Hospital. It is based on Traditional Chinese Medicine (TCM) and has many benefits for kidney patients.
A kidney failure patient from Iraq gets a great improvement after taking our Medicated Bath. He has a rosy face and urine volume is increased to 2200ml from 500ml.
How does Medicated Bath treat kidney failure patient?
Medicated Bath has some health benefits to kidney failure patients:
Chinese medicines in Medicated Bath can improve blood circulation, remove blood stasis and increase more blood to kidneys. This can alleviate renal ischemia and anoxia state to prevent renal fibrosis and slow down your progression of kidney condition.
Medicated Bath can also reduce blood glucose and lipid, regulate blood pressure. This is suitable for patients with symptoms such as hyperlipidemia, high blood glucose and diabetes.
Medicated bath can discharge toxins from your body. The build up of wastes in your blood is the main cause of high creatinine level. This can cause allergic skin, itchy skin and dry skin so patients with skin problems can choose Medicated Bath.
Medicated bath can improve blood circulation in different organs including kidney and liver, which helps repair injured kidneys and slow down the atrophy of kidneys.
All in all, Medicated Bath can help improve renal function. When kidney function is improved, urine volume can be improved and other symptoms including itchy skin, poor appetite and fatigue can be alleviated from the root. If you want to learn more information about Medicated Bath, you can leave a message below or send an email to kidneycares@hotmail.com. We will reply you as soon as possible.
The temperature for medicated bath should be controlled within 35 centigrade to 40 centigrade. Of course, it is different from patient to patient. Patient should immerse their whole body into medicated bath for 40-90min. The bathing time may also be adjusted according to patient's condition. It would be much better if the points massage is added. 7 days is a short course and 49 days is a long course.
Apart from Medicated Bath, you may also need to take other Chinese medicine treatments like Medicated Foot Bath, Mai Kang Mixture, Medicinal Soup, Moxibustion Therapy, etc. They combine together to repair kidney damage and improve renal function. The therapeutic effect is better than just medicated bath.