Where Can I Get The Mai Kang Mixture
2015-10-27 02:22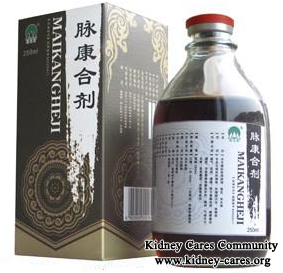 One kidney failure patient from USA consulted us such a question "Where can I get the Mai Kang Mixture". I think many patients have this question and want to know where they can get this medicine. In this article, you will find the answer.
Where can you get Mai Kang Mixture?
Mai Kang Mixture is a kind of oral liquid for kidney failure patients to take for their disease, which is used popular in our hospital-Shijiazhuang Kidney Disease Hospital, China. Nowadays you cannot get the Mai Kang Mixture in other countries as we have no branches in other countries. Thus, if you want to try this medicine, you have to come to China for treatment. Besides, Mai Kang Mixture is just one of the assistant therapies in our hospital. The therapeutic effect will be better if Mai Kang Mixture combines with other therapies in our hospital such as Micro-Chinese Medicine Osmotherapy, Medicated Bath, Foot Bath and Medicinal Soup, etc.
How does Mai Kang Mixture work?
Mai Kang Mixture contains many nutrients including auricularia auricula, 16 kinds of amino acids, active enzyme, polypeptide adenosine, 6 kinds of vitamins and 10 kinds of microelements, etc.
Auricularia auricula has the function of reducing blood lipid, anticoagulation, anti blood clots, improving blood flow, boosting immune system and adjusting glycometabolism. What's more, the synergistic effect of other active substances, various vitamins and microelements can achieve the purpose of smooth blood flow, rebuilding body organs and systems. All these provide a favorable environment for kidney restoration and slow down the progression of kidney failure. After a period of treatment, patients can feel their diseases are improved. Of course, Mai Kang Mixture is usually used together with other unique therapies like Micro-Chinese Medicine Osmotherapy which is an external application. The active ingredients in osmotherapy can come to kidney lesion directly with the help of osmosis device. This therapy helps dilate blood vessels, prevent inflammation and coagulation, degrade extracellular matrix, provide nutrients for kidney damage. In this way, kidney damage can be repaired to some extent and kidneys can recover to work.
"Where Can I Get The Mai Kang Mixture"? It is only available in China now. If you have any other question, you can leave us a message below or consult our online doctor. We will give you reply as soon as possible.