Why Is There Uremic Frost in Renal Failure
2015-03-02 03:49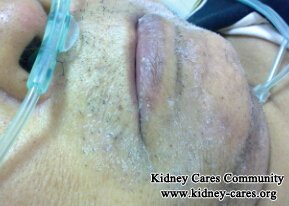 There is often white crystal substance in powder form, on the skin of renal failure patients, especially forehead, face, nose, prothorax and some other areas that sweat frequently. Do you know why there is uremic frost in renal failure? If not, go on reading to learn more information. Our online doctor can also help you exclude the difficulty and anxiety for free.
Causes of uremic frost in renal failure
As we all know, after protein metabolism, some nutrients are absorbed by our body, while some become waste products, such as urea. When kidneys are healthy, they can remove those waste products from the blood, but when kidneys fail to work, they build up in the blood. When their concentration is very high in the blood, part urea may be discharged out with sweat. When sweat evaporates, urea dissolves out and deposits in the skin, leading to uremic frost.
Treatment of uremic frost in renal failure
When uremic frost occurs, you should take treatment to lower toxin concentration in your body. Medicated Bath, Circle Therapy, Steam Therapy and Enema Therapy are the common used therapies in Shijiazhuang Kidney Disease Hospital. They can increase your body's ability to expel toxins. They can also help you improve kidney function by promoting blood circulation. In order to achieve a good therapeutic effect, we often several of them together, for example, Medicated Bath, Mai Kang Mixture, Micro-Chinese Medicine Osmotherapy and medical soup. If your case is very serious, you may have to use Blood Pollution Therapy to have a thorough body purification. After a period of treatment, uremic frost disappears and other associated symptoms, such as coldness and poor appetite are improved. Long-term treatment can help you repair the damaged kidneys to certain extent so as to get rid of dialysis and transplant.
Skin itch may be a result of uremic frost, which may affect your life seriously. Now you have learned the causes of uremic frost and then take treatment as early as possible to protect yourselves well.
Our Treatment Effect
High creatinine level is dangerous to a kidney patient
Move the mouse to enlarge the picture
If you also want to reduce your high creatinine level, please look at this patient's report. When he was just hospitalized in our hospital on Dec 11, 2018,
His creatinine:1028umol/L,
urea: 39.7mmol/L
UA : 513umol/L
After a period of our treatment,
his creatinine:331umol/L, urea:16.1mmol/L
UA :325umol/L on Jan 5, 2019.
His condition was getting better and better. You can also get better.
For a CKD patient, you can choose Chinese medicine treatments to control your condition. your creatinine level can be reduced radically, symptoms can be alleviated and more importantly, your renal function will be improved. In this way, you can stay away from end stage kidney disease and avoid dialysis.