How to Control Fluid Intake for Kidney Failure Patients in Summer
2016-06-29 10:24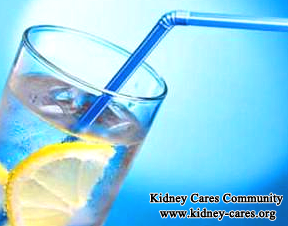 For most of the kidney failure patients, they need to avoid the fluid intake. However, summer is coming, and fluid or water becomes very necessary for patients. Then who should kidney failure patients control their fluid intake in summer? Read on, you can get the solutions in Shijiazhuang Kidney Disease Hospital.
For some kidney failure patients who have less urine, they need to limit the fluid intake strictly. Because too much fluid intake can worsen their blood pressure and swelling, which can cause cause further kidney damage. Especially for dialysis patients, unwell controlled fluid intake can even be life-threatening.
In order to keep a well condition for kidney failure patients, they need to control well of the fluid intake from everyday.
1. You need to measure your body weight every morning before taking breakfast, then you can regulate your fluid intake in a day.
2. Your body weight should not be increased more than 0.5-0.8 kg, or your body weight should not be higher than ideal body weight between the session of two dialysis.
3. The amount of fluid intake should be your yesterday's urine volume plus 500 cc. If the weather is too hot or you sweat a lot, you can increase to 800 cc. But the fluid intake should include the fluid got from your foods.
The set of body weight:
1. Let your doctor to assess whether your current dry weight is your ideal weight every month.
2. If your body weight is less than dry weight after dialysis, it means there are too much fluid removed from your body, and it can cause the symptoms such as dizziness, fatigue, tinnitus, etc.
3. If the dehydration is insufficient, it will increase the heart burden and even lead to heart failure, enlarged heart, difficult in breathing, and so on.
Solutions to control the fluid intake for kidney failure in summer.
1. Make the water into lemon ice, and contain a little amount in the mouth, you can also use water to risen the mouth or chewing gum.
2. Containing a slice of lemon or sour candy wetting the mouth, stimulate saliva production.
3. You can collect your daily drinking water into a fixed installed container, and the make distribution of the water for drinking, and don't drink extra water in the day.
4. With a wet cotton swab to moist lips or rub lip balm, avoid the lips too try
5. Taking regular exercises (waling or cycling) per day, promote perspiration (to reduce weight)
Above are the solutions for kidney failure to control the fluid intake in a day. If you still have any questions after reading, you can leave a message below, or you can also send e-mail to kidneycares@hotmail.com, we can give more help.