How To Prevent Dialysis For IgA Nephropathy
2018-11-23 02:08
Q:
Hi, my dad has IgA Nephropathy. His creatinine level is 311 and GFR is 18. Please advise what can be done to prevent dialysis.
A: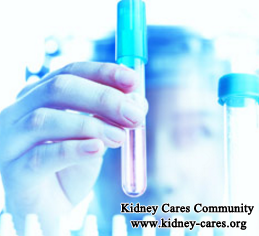 IgA Nephropathy is an immune-complex mediated disorder, which means that immune complexes may not be the direct cause of the disease but they help bring about the end result, which is widespread inflammation of the kidneys. Long time of inflammation of the kidneys can cause damage to your kidneys. In this way, your renal function will decline and then you will have a series of complications like high creatinine level, blood in urine and swelling, etc. In order to sustain your life, your doctor may recommend you to take dialysis. Dialysis can help your injured kidneys to expel some wastes and excess fluid out. Your condition can be improved to some extent. However, dialysis fails to rebuild your kidney structure and also causes some side effects. Many patients complain their condition comes back again. Thus, many patients would like to avoid dialysis. Well then, is there any way to prevent dialysis for IgA Nephropathy?
Yes, our hospital treats IgA Nephropathy with Immunotherapy. Since IgA Nephropathy is a process of immune complexes depositing in the kidney. The first step is to remove these immune complexes out to provide a good internal environment for the following treatment. Meanwhile, blocking immune reactions and preventing further kidney damage is also very important. With these functions, I believe patients' condition can be remitted greatly and then the following herbal medicines will be used.
On the basis of Traditional Chinese Medicine (TCM), we create some advanced Chinese medicine therapies like Micro-Chinese Medicine Osmotherapy, Medicated Bath, Medicated Foot Bath, Mai Kang Mixture, Moxibustion Therapy and Medicinal Soup, etc. They have the effect of repairing damaged kidney tissues and improving renal function. According to patients' different condition, doctors will choose various combinations of herbal medicines. Through nourishing and activating the damaged but not necrotic glomeruli cells, part but not all of kidney function will be recovered. The reason is we can do nothing for the necrotic cells. Our kidney is a great organ which can do a perfect job with more than 50% renal function. When your renal function is improved, you can reduce your dialysis gradually. IgA Nephropathy can be treated from the root.
How to prevent dialysis for IgA Nephropathy? You can try Immunotherapy in our hospital. Foreign patients need to come to China for treatment.
Our Treatment Effect
Swelling is an obvious sign of kidney disease.
Move the mouse to enlarge the picture
Look, this patient has severe leg swelling which has made her feel pain and can not get out of the bed. In order to seek better treatment, she came to our hospital for Chinese medicine treatments. 30kg of fluid was removed from her body in less than a month. Her leg swelling disappeared completely. Now you can see her long legs again.
Say goodbye to dialysis
Kidney Disease Treatment - 9 kinds of therapies