A: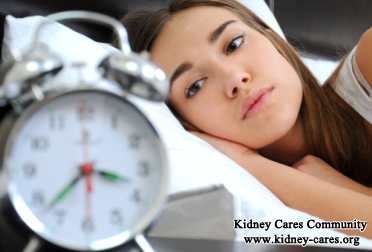 Hi, this is Dr David from Shijiazhuang Kidney Disease Hospital, China. You are not alone. It is so common in renal patients, and researches say that many chronic patients have insomnia. It happens especially at the beginning. Medications, itchy skin and leg/back/muscle pain can all lead to sleep problems. Here I give you some treatment tips:
Diet management
Drink some water that helps.
Give up sodium, red meat and start to eat veggies and fruits. You can eat chicken, turkey, salmon and fish.
Brown rice, wheat bread, no dairy, salt free butter.
Medical care
Medical care is critical. Only diet can not treat your sleep problem from the root. Here we recommend you Micro-Chinese Medicine Osmotherapy. This therapy is the characteristic Chinese medicine treatment and it is used externally. According to specific illness condition, proper Chinese medicines will be selected. Then they will be micronized into powder and collected into two medicated bags. You just need to lie down on these two medicated bags. With the help of osmosis device, Chinese medicines can arrive at kidney lesion directly through skin permeation. Micro-Chinese Medicine Osmotherapy can help expand blood vessels, improve blood circulation, prevent inflammation and coagulation, degrade extracellular matrix, providing nutrients, which can stimulate the self-healing ability of injured kidney cells. Gradually injured kidney cells can be repaired and kidney function can be improved as well. When your renal function is improved, your symptoms such as sleep problems, muscle cramps, leg pain, back pain, itchy skin and swelling, etc can all be treated from the root. You will feel better soon.
Apart from Micro-Chinese Medicine Osmotherapy, we also have Medicated Bath, Foot Bath, Mai Kang Mixture and Medicinal Soup, etc. They can improve renal function. If you have interest in our Chinese medicine treatments, you can come to China for a try. We have no branches in India, Canada and any other countries.