Kidney Failure, High Creatinine 13.2,Dialysis 2 Times: Is There Possibility that His Kidneys Can Recover
2016-05-10 06:55
Q:
Q: Hi, how are you? Hope you will be fine & good in health. One of my friends has kidney failure problems, and his reports show as creatinine value as 13.2 & urea 197. He doesn't have any blood pressure or diabetes issues and he never use alcohol. Doctors perform him dialysis one day before & today they will perform again. Is there possibility that his kidneys can recover?
A: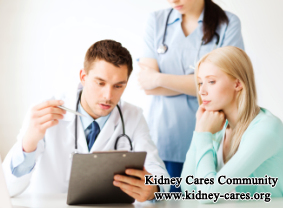 Hi, dear friend:
Have a nice day, very glad to get your e-mail from our mail box, kidneycares@hotmail.com, and it is our pleasure to help. From your description of your friend's condition, we have learned that his kidneys have been damaged very severely with less than 15% kidney function left. For his case, there are 3 kinds of kidney cells in his kidneys, healthy cells, damaged cells and dead cells. Due to his low kidney function, mos of his kidney cells must be dead, so it is difficult for him to get his kidneys recover completely. However, he can take treatment to protect his healthy kidney cells and repair his damaged kidney cells, he will have great chance to get off dialysis and live a normal life.
For his case, we suggest the Blood Pollution Therapy and Micro-Chinese Medicine Osmotherapy, both are the featured treatment in our Shijiazhuang Kidney Disease Hospital.
Blood Pollution Therapy is used to remove toxins and wastes out from blood by taking Blood Purification, and it can also supply many essential elements to kidneys, which can strengthen the kidneys and make a good blood environment for further treatment.
Micro-Chinese Medicine Osmotherapy is an external and herbal based treatment, it can help dilate the blood vessels and improve the blood circulation, which can bring more nutrition and oxygen to kidneys, then it can repair the damaged kidney cells and improve the kidney function.
Through systematic treatment, his kidney function can be improved, and the high creatinine and urea can be reduced from root. Then he will have great chance to reduce the frequency of dialysis or even avoid dialysis. Any more questions? You can leave a message below, or you can also contact online doctor for free help.
Our Treatment Effect
Swelling is an obvious sign of kidney disease.
Move the mouse to enlarge the picture
Look, this patient has severe leg swelling which has made her feel pain and can not get out of the bed. In order to seek better treatment, she came to our hospital for Chinese medicine treatments. 30kg of fluid was removed from her body in less than a month. Her leg swelling disappeared completely. Now you can see her long legs again.
Say goodbye to dialysis
Kidney Disease Treatment - 9 kinds of therapies