Creatinine Level from 6.4 to 11 Indicates Deterioration of Kidney Function
2016-04-15 07:21
Q:
My father has been detected of chronic kidney disease (CKD). As of yesterday it was 11. A week back before we discharged from hospital it was 6.4. What does this mean? How can we stop its elevation?
A: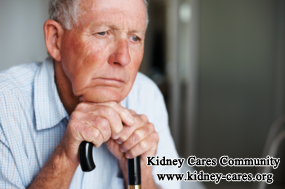 Hi, This is Dr David from Shijiazhuang Kidney Disease Hospital, China. Your creatinine level increasing from 6.4 to 11 indicates further kidney damage and your renal function declines further. What you can do is to take effective treatment to repair injured kidneys and improve your renal function.
If you have severe symptoms such as heart failure, high potassium in blood or stroke, timely dialysis is necessary. Dialysis helps discharge excess fluid and wastes from your body so as to alleviate your symptoms to some extent. If you have no symptoms, dialysis can be delayed. That is, whether you should start dialysis mainly depends on your own condition. Not everyone with high creatinine level requires dialysis.
Besides, you can come to China for Micro-Chinese Medicine Osmotherapy. This therapy is an unique Chinese medicine treatment in our hospital-Shijiazhuang Kidney Disease Hospital. Micro-Chinese Medicine Osmotherapy aims to repair kidney damage and improve renal function. This is the radical treatment for high creatinine level 11. More importantly, it is possible for you to avoid dialysis. Osmotherapy is applied externally. You just need to lie on bed to take this therapy. Chinese medicines are micronized into powder and then packaged into special gauze. With the help of osmosis machine and penetrant fluid, the active ingredients in Chinese medicines can arrive at your kidney lesion directly. If there is certain amount of blood flowing to your kidneys, our medicines can play the functions of repairing kidney damage and improving renal function through dilation of blood vessels, anti-inflammation, anti-coagulation, degradation of extracellular matrix. How do you know if there is amount of blood flowing to your kidneys? If you still pass urine, it indicates there is still blood flowing to your kidneys.
Our Micro-Chinese Medicine Osmotherapy is only available in China. Foreign patients need to come to China for treatment. About more information, you can contact kidneycares@hotmail.com or whatsapp number +8615131171391.
Our Treatment Effect
Swelling is an obvious sign of kidney disease.
Move the mouse to enlarge the picture
Look, this patient has severe leg swelling which has made her feel pain and can not get out of the bed. In order to seek better treatment, she came to our hospital for Chinese medicine treatments. 30kg of fluid was removed from her body in less than a month. Her leg swelling disappeared completely. Now you can see her long legs again.
Say goodbye to dialysis
Kidney Disease Treatment - 9 kinds of therapies