Q:
Q: Hi, I am a kidney dialysis patient, and I am inserted in other options to do less or even no dialysis at all. I still pass urine and I saw your hospital said there is still hope. Can you Chinese medicine treatment help me reduce the frequency of dialysis or even stop it? Please give your suggestions.
A: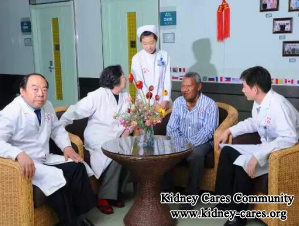 Dialysis is the replacement treatment for kidney failure, and it is the quickest way to purify blood and control some of your severe symptoms. However, dialysis cant restore your kidney function, so you may need to take it regularly. And the long term dialysis can cause some severe side effects, such as high blood pressure, swelling, nausea, vomiting, headache, muscle cramps, etc. So dialysis is not a good treatment for kidney failure.
You said you can still pass urine, it is good sign, because there are still kidney cells can work to filter the blood. If you can take the treatment that can repair your damaged kidney cells and protect your healthy kidney cells, your kidney function can be improved. When there are more than 20% kidney function left, you can reduce the frequency of dialysis or even stop dialysis to live a better life.
Here, we suggest the Blood Pollution Therapy and Micro-Chinese Medicine Osmotherapy in our Shijiazhuang Kidney Disease Hospital, both are the featured and unique treatments for kidney failure in our hospital.
First, we will use the Blood Pollution Therapy to remove toxins and wastes out from blood and purify your blood, and then it can supply more necessary elements to blood and kidneys, which can strengthen your kidneys and make a good blood environment for further treatment.
Second, we will use the Micro-Chinese Medicine Osmotherapy to you, it is an external and herbal based treatment, and it aims at repairing your damaged kidney cells and improving your kidney function from root. Once your kidneys can work well, you can so less or even stop the dialysis.
If you want to learn more details of the Chinese medicine treatment to do less or stop the dialysis for your own case, you can leave a message below, or you can also send e-mail to kidneycares@hotmail.com, we can give more help.