A: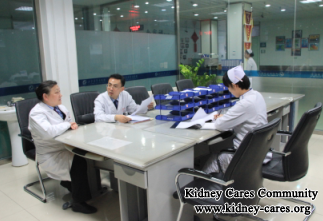 Stage 3 CKD means your kidneys have been damaged moderately with GFR 30-59 ml/min. You said your GFR is 44, it means you have about 44% kidney function left now. In this stage, if your disease can be controlled well, you may finally develop into stage 5 CKD. So early prevention and medical treatment is very necessary for you.
Here are the suggestions for you to prevent stage 5 CKD, advised by experts in our hospital, Shijiazhuang Kidney Disease Hospital.
1. Make a well planed diet
A well planed diet can reduce your kidney burden and protect your residual kidney function, and the specific diet should be based on your own case. It may include low protein diet, low salt diet, limit the potassium and phosphorus intake, take more fresh fruits and vegetables, and so on. You can ask your doctor to make a diet chart for you depending on your own disease.
2. Control the causes of your CKD
As we know, there are some causes that can lead to kidney disease, such as diabetes, high blood pressure, kidney infection, and so on. You need first get the main cause of your kidney problem, and control the basic cause, then it can help prevent further kidney damage.
3. Control well of your symptoms
With the development of your CKD, you may get some symptoms, such as swelling, high blood pressure, nausea and vomiting, anemia, etc. If these symptoms cant be controlled well, it can also worsen your disease. So you also need to take treatment to control your symptoms.
4. Restore your kidney function
This is the most important thing that you need to do for your stage 3 CKD. Once your kidney function is improved, it can prevent stage 5 CKD for your case. In our hospital, we use the Micro-Chinese Medicine Osmotherapy to remedy the kidney disease, and it can help repair damaged kidney tissues and improve your kidney function. Then it can stop the progression of your disease.
All these suggestions can be beneficial for your stage 3 CKD with GFR 44, and it can help you prevent stage 5 CKD. If you want to learn more about the treatment in our hospital, you can consult the details with our online doctor, or you can also send e-mail to kidneycares@hotmail.com, we can give more help.