Why Do I Feel Very Tired And Weak After Dialysis
2015-08-20 01:55
Q:
I feel very tired and weak after dialysis. Will this always be this way? And how do I explain this to my family to where they understand?
A: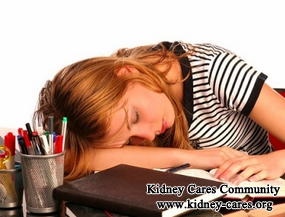 It is very common for patients to feel very tired and weak after dialysis. This is usually caused by the following factors:
1. Anemia
Anemia is a condition in which the body has few red blood cells than normal. And it commonly occurs in people with chronic kidney disease (CKD). This is because damaged kidneys do not make enough EPO which promotes the bone marrow to make red blood cells, carrying oxygen throughout the body. The signs and symptoms of anemia in someone with kidney disease include weakness and fatigue or feeling tired.
2. Electrolyte imbalance
During dialysis process, too many vitamins and mineral products will be removed out of the body. Under this condition, patients have a higher risk for electrolyte imbalance which is another contributor for being tired and weak after dialysis.
What is the treatment to alleviate weakness after dialysis?
The experts in Shijiazhuang Kidney Disease Hospital in China suggest that the most fundamental way to avoid dialysis is to improve kidney function. Although kidney transplant can help patients stop dialysis, patients always need to take anti-rejection medications after transplantation. What's worse, transplanted kidney has a large risk of being damaged again. Under this condition, patients have to take dialysis again or have another kidney transplant. Nowadays the natural remedy is preferred by more and more patients. Micro-Chinese Medicine Osmotherapy is a therapy to improve kidney function through dilating blood vessels, preventing inflammation and coagulation, providing sufficient blood and oxygen to the damaged cells and kidney tissues, providing a healthy internal environment to help impaired kidneys get self-repaired.
If you still have any doubt or question about the above information, you can consult our online doctor directly or send an email to kidneycares@hotmail.com.
Our Treatment Effect
Swelling is an obvious sign of kidney disease.
Move the mouse to enlarge the picture
Look, this patient has severe leg swelling which has made her feel pain and can not get out of the bed. In order to seek better treatment, she came to our hospital for Chinese medicine treatments. 30kg of fluid was removed from her body in less than a month. Her leg swelling disappeared completely. Now you can see her long legs again.
Say goodbye to dialysis
Kidney Disease Treatment - 9 kinds of therapies