Is There Any Treatment to Improve Kidney Function and Avoid Dialysis
2015-04-24 03:52
Q:
I have chronic kidney disease at stage 3. Is there any treatment to improve the kidney function and avoid dialysis?
A: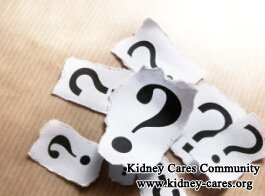 CKD Stage 3 means your kidneys are mild injured. In such a stage, your kidneys can still manage the normal function of your body so you have few symptoms and complications. But importance should be attached to stage 3. Only in this way can you avoid dialysis.
Conventional treatment for kidney patients is to control the symptoms you have. For example, if you have blood pressure, ACEI or ARBs are used. If you have proteinuria, steroids and immunosuppressants may be used. If you do not have any symptoms, your doctor usually do not prescribe medicines for you to protect the remaining kidney function. That may be why some renal patients miss their best treatment time.
In Shijiazhuang Kidney Disease Hospital, we often treat kidney disease from the blood. In a good blood environment, your kidneys can be protected very well. 4M treatment (Mai Kang Mixture, Micro-Chinese Medicine Osmotherapy, Medicated Foot Bath and various Medicinal Soup) can help you improve blood environment by regulating the qi flowing through the channels, removing stasis and cleansing waste products. They can also decompose the immune complexes in the kidneys to reduce kidney inflammation and degrade extracellular matrix to stop kidney fibrosis. Moreover, they can provide essential nutrients for damaged kidneys to repair themselves. What is the most important, they can make your whole harmonious and balanced. If 4M treatment is not effective enough, we often use 7 external therapies to help you, such as circle therapy, enema therapy, steam therapy, medicated full bath, acupoint application, acupuncture and moxibustion. All in all, we can help you achieve a good therapeutic effect.
If you want to improve your kidney function and avoid dialysis, you should take treatment as early as possible. For more information about our treatment, please leave a message below or send emails to kidneycares@hotmail.com.