Why Creatinine Level Fluctuates Frequently
2014-09-16 08:03
Q:
My mother has a creatinine level of 3.0. She was diagnosed with kidney disease a year back and her creatinine level was at 3.8.. She has since been in strict diet and medicine and it had come down to 2.5 about 2 months back. When she checked this week it has risen up to 3.0. Why her creatinine level goes up and down? How to Stabilize creatinine level 3?
A: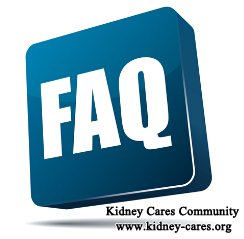 Kidney disease is the most common reason for elevated levels of creatinine. Creatinine is the waste product, which is passed out of body by kidneys. When the kidneys are not functioning properly, the body can not get rid of excess creatinine and then creatinine level increases.
Why creatinine level fluctuates frequently?
When creatinine level is high, the routine treatment is to have diet restriction and take medicine such as ketosteril. Besides, controlling symptoms such as high blood pressure or high blood sugar level is also helpful for lowering creatinine level. However, the creatinine level can be reduced to certain extent, but the damaged kidneys are still not be repaired. Once the patients do not pay attention to the diet and medicine, it is possible for her creatinine to go up again. Besides, cold, infection or some other disease can also lead to the relapse of kidney disease and then creatinine level may increase.
How to stabilize creatinine level?
If the patients want to stabilize creatinine level, they should repair the damaged kidneys. When they regain more than 50% kidney function, the creatinine level can be brought within the normal range. In Shijiazhuang Kidney Disease Hospital, there is a systemic treatment plan for kidney patients, namely Micro-Chinese Medicine Osmotherapy, Foot Bath, Mai Kang and Medicated Soup. They can help kidney self-healing. Because they can dilate blood vessels and remove stasis to increase blood flow into the kidneys and improve ischemia and anoxia. They can also eliminate immune complexes to reduce kidney inflammation and stop kidney fibrosis by degrading extracellular matrix. After a period of treatment, you will find that there is an improvement in kidney function and the creatinine level will come down.
Creatinine 3.0 indicates that your mother is in stage 3 kidney disease. There is 50 % possibility for her to reverse the kidney disease. If you want to grab the opportunity, please take treatment as early as possible.