Can People With Hypertensive Nephropathy Drink Coffee
2013-08-10 17:45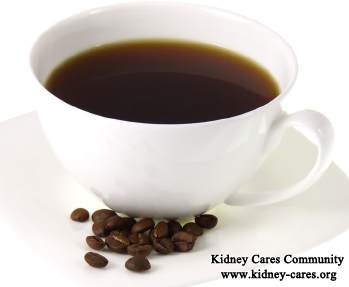 Coffee, a word originates from a small town in Ethiopia called Kaffa, and in Greek language, Kaweh means strength and enthusiasm. Coffee has a very long history and is drunk by many people due to its delicious tastes and function of refreshment. However, although coffee tastes good and has some heath benefits, can Hypertensive Nephropathy patients drink it? It is worth considering about this question.
Hypertensive Nephropathy refers that if your blood pressure is high for a long time and does not get effective and timely treatment, high blood pressure will cause damage to your kidneys. Your injured kidneys are caused by high blood pressure, which is called Hypertensive Nephropathy. Therefore, the root of your kidney disease is your high blood pressure and what you should do is to treat or control your high blood pressure. Only in this way can your conditions be controlled. The following will tell you when you should not drink coffee and when you can.
1. Coffee aggravates your high blood pressure and you should not drink coffee.
The above tell you what you should do is to treat or control your high blood pressure. In this case, you should not drink coffee, because coffee is easy to aggravate your high blood pressure. The caffeine in coffee can increase your blood pressure. Besides, if you are in emotional stress, drinking it will be a dangerous result. High blood pressure patients drink a cup of coffee, their blood pressure will be high for 12h. Therefore, high blood pressure groups need to avoid drinking coffee. Let alone hypertensive nephropathy patients, they should quit coffee without hesitation.
2. Coffee may cause low calcium and you should not drink coffee.
when your kidneys have something wrong and can not work in a normal way, they easily cause disorder of electrolytes, such as high potassium and phosphorus and low calcium. In this case, if you still drink coffee for a long time, it will lead to bone loss, which brings harmful effects to preservation of bone mass. For women, they are at a high risk of osteoporosis. That is to say, kidney disease patients drink coffee, which will worsen the balance of electrolytes and aggravate your bone disease. Thus, hypertensive nephropathy patients had better avoid drinking coffee.
3. Coffee is helpful for improving edema and you can drink it properly.
coffee has the function of diuresis and eliminating edema to some degree. Caffeine can promote kidney function for discharging excessive water out of body by increasing urine, which will improve edema partly. In this case, hypertensive nephropathy patients can drink coffee properly ( If you do not know how much you should drink, you can consult our online doctors).
Whether Hypertensive Nephropathy patients can drink coffee mainly depends on their illness condition. However, they had better not drink coffee so as to control their conditions' progression.
Our Treatment Effect
High creatinine level is dangerous to a kidney patient
Move the mouse to enlarge the picture
If you also want to reduce your high creatinine level, please look at this patient's report. When he was just hospitalized in our hospital on Dec 11, 2018,
His creatinine:1028umol/L,
urea: 39.7mmol/L
UA : 513umol/L
After a period of our treatment,
his creatinine:331umol/L, urea:16.1mmol/L
UA :325umol/L on Jan 5, 2019.
His condition was getting better and better. You can also get better.
For a CKD patient, you can choose Chinese medicine treatments to control your condition. your creatinine level can be reduced radically, symptoms can be alleviated and more importantly, your renal function will be improved. In this way, you can stay away from end stage kidney disease and avoid dialysis.
Say goodbye to dialysis